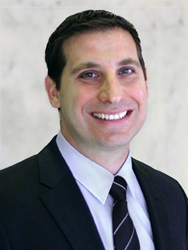 It's a huge honor to join such an accomplished group of doctors.
Beverly Hills, CA (PRWEB) January 13, 2014
La Peer Health Systems, an outpatient surgery center in Beverly Hills, is widely known throughout the healthcare industry for its cutting-edge facilities and dedication to state-of-the-art procedures. The outpatient center boasts 50 physicians from 14 specialty departments, and includes doctors who are frequently consulted by the media for their expertise.
David P. Magner, MD, who recently joined the team of doctors at La Peer, is a board-certified surgeon. As a premier doctor in his field, Dr. Magner specializes in minimally invasive and laparoscopic colon and rectal surgery. He is also an expert in benign anorectal conditions, inflammatory bowel disease, pelvic floor dysfunction, and advanced gastrointestinal malignancies.
"It's a huge honor to join such an accomplished group of doctors," said Dr. Magner. "I can't wait to use my skills and knowledge to add to the already impressive list of surgical procedures offered by La Peer Health Systems."
La Peer is made up of some of the most renowned and desired doctors in the United States. La Peer Health Systems was also named one of the 100 best places to work by Becker's ASC Review. In addition, the surgical center recently underwent a multi-million dollar remodel.
Dr. Magner will be joining the existing team of world-renowned colorectal surgeons. "We can't wait to welcome Dr. Magner," said Dr. Eiman Firoozmand, Medical Director of La Peer's Fissure & Fistula Center of Excellence. "Dr. Magner is an incredible laparoscopic surgeon. I know he'll be a valuable member of our team."
David P. Magner, MD, completed his medical degree at the University of California, Irvine College of Medicine. He did his general surgery residency at Cedars-Sinai Medical Center. While at Cedars-Sinai, he was named Academic Chief Resident. After his general surgery residency, he was a fellow in Colon and Rectal Surgery at the University of Miami/Jackson Memorial Hospital.
La Peer Health Systems is an outpatient surgery center in Beverly Hills, founded by doctors and focused on providing excellent patient care alongside the most cutting-edge medical treatments available. With 50 world-renowned physicians in 14 specialties, comprehensive medical treatment is offered that takes patients from consultation to diagnosis, treatment, surgery, and ultimately aftercare. The 14 medical departments include orthopedics & sports medicine, gastroenterology, head & neck surgery, colorectal & general surgery, podiatry, ophthalmology, pain management, plastics & reconstructive surgery, gynecology, spine surgery, interventional cardiology, bariatric surgery, thoracic surgery, and anesthesiology. Unlike large hospitals, La Peer's unique structure offers extremely personal care in a safe and controlled environment.
To learn more about La Peer Health Systems, visit http://www.lapeerhealth.com.