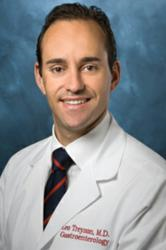 It's a genuine privilege to be named to this position.
Beverly Hills, CA (PRWEB) January 14, 2014
Leo Treyzon, MD, MS, is a nationally-renowned gastroenterologist and clinical nutrition specialist who practices at La Peer Health Systems in Beverly Hills. Dr. Treyzon has been named the new Clinical Chief of Gastroenterology at Cedars-Sinai, effective January 1, 2014.
"It's a genuine privilege to be named to this position," said Dr. Treyzon. "Cedars-Sinai Medical Center is truly one of the best and most innovative hospitals in the country. I am proud to be a part of this great team." Dr. Treyzon was elected by his peers to this position after a vote of all gastroenterologists at Cedars-Sinai. "This is a particular honor in light of our division's recent ranking In U.S. News and World Report as the 5th highest rated Gastroenterology department in the entire county. We are the highest rated department in the western United States," said Dr. Treyzon.
Dr. Treyzon's work focuses on the areas of motility, pain, and nutrition. Dr. Treyzon sees patients with altered bowel habit, complex pain syndromes, maldigestion, and malabsorption. He performs traditional endoscopy, colonoscopy, and novel wireless capsule endoscopy procedures.
"At La Peer, we offer cutting-edge, innovative treatment in an outpatient setting," said Dr. Treyzon. "The advantage of this is that our patients get access to highest quality procedures in a comfortable and personalized care environment."
Dr. Leo Treyzon is a gastroenterologist with four board certifications, including American Board of Internal Medicine (ABIM), American Board of Physician Nutrition Specialists (ABPNS), American Board of Obesity Medicine (OBOM), and American Board of Internal Medicine, Gastroenterology Subspecialty. He is an active member in Colon Cancer and Esophageal Centers of Excellence at Cedars Sinai. Dr. Treyzon also holds a master's degree from UCLA in clinical research, where he is currently Assistant Professor of Medicine in the Department of Medicine. His research focuses on digestive health and nutrition.
La Peer Health Systems, located in Beverly Hills in Los Angeles county, focuses on excellence in patient care, offering state of the art treatment modalities and cutting edge medical devices. With 42 doctors encompassing 13 departments, ranging from anesthesiology to urology, La Peer offers comprehensive and widespread medical treatments for all patients. More information about La Peer Health Systems can be found at http://www.LaPeerHealth.com.