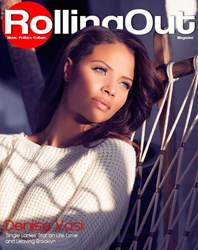 I've got my own version of 'living the dream
Atlanta, GA (PRWEB) January 03, 2014
Denise Vasi is truly happy.
The actress and model who broke through to mainstream television audiences on the long-running soap "All My Children" is returning as one of the principal stars on VH1's "Single Ladies" — but this lady is no longer single. As the show gears up for its third season, Vasi is adjusting to her latest and greatest role: newlywed.
"I never really thought about marriage that much," Vasi tells entertainment editor Todd Williams. "Marriage just wasn't my thing. I wasn't the little girl who grew up thinking about the big wedding day. Then you meet somebody and all of that kind of changes."
Vasi is also excited to be a part of what seems to be a slight shift in television. With shows like "Single Ladies" and ABC's smash hit "Scandal," black women appear to be more of a target demographic for networks. And Vasi is paying attention.
"It's really a whole new ballgame now."
Visit rollingout.com to read the interview in its entirety. Be sure to check out this and other exclusive photo shoots and video footage with celebrity photographer DeWayne Rogers.
About Rolling Out Magazine:
Rolling Out, the nation's largest free urban weekly, is a digital and print magazine that focuses on the black experience in response to entertainment, politics, fashion, culture, sports and lifestyle points of interest. Headquartered in Atlanta, rolling out is positioned as the voice for the African American experience, using its newspaper as a platform in the marketplace to express urgency for education reform, and to document entrepreneurial endeavors and other relevant issues in the Diaspora. For information on rolling out, please log on to rollingout.com.