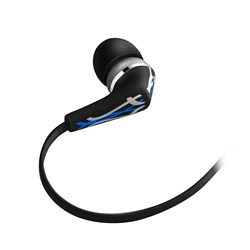 Las Vegas, Nev. (PRWEB) January 03, 2014
Ask any fitness trainer: Getting back into shape after the holidays is a lot easier when you have a stylish workout partner to motivate you.
If your New Year's resolution involves your fitness regimen, there's no better exercise partner to put you through your paces than the vFit® in-ear fitness headphones from audio pioneer Velodyne (http://www.velodyne.com). The product makes its debut at 2014 International CES, under way from Jan. 7 through Jan. 10.
Initially available in pink or blue, stylish Velodyne vFit headphones fit snugly yet comfortably in any ear thanks to an optional attachable hook that molds to the unique shape of the outer ear. Inside the ear, three sizes of ear tips ensure a custom fit. vFit's style and comfort are further matched by Velodyne's superior audio technology and legendary high-performance, low-distortion bass.
"With vFit by Velodyne, there's no more fussing with awkward-fitting ear buds that pop out in the middle of your workout," said Marta Hall, president of Velodyne. "Just as important, you'll never miss a single pulsating beat with vFit. They look as good as they sound — and with regular use, vFit owners are apt to look good as well."
From a technical standpoint, vFit headphones offer:
o 10mm drivers for high-performance, low-distortion bass
o 20 Hz-20 kHz frequency response
o 94 dB/1 kHz/1 mW sensitivity
o 16 ohm impedence
vFit headphones are available at Amazon.com, BestBuy.com and Velodyne.com. MSRP: $99.99.
[See Velodyne at the CES Unveiled press event (Table #40 at The Mandalay Bay) from 4-6 p.m. on Sunday, January 5; and in Booth #71119 at the Venetian Ballroom, through the run of the show.]
About Velodyne
Founded in 1983 and based in California's Silicon Valley, Velodyne, Inc. is a diversified technology company known worldwide for its high-performance audio equipment and high-definition LiDAR sensors for autonomous vehicle applications. The company is widely recognized as the leading manufacturer of high-performance, low distortion powered subwoofers and an expanding line of technically innovative in-ear and over-ear audio products with interchangeable custom-designed skins that enable audiophiles to personalize the look of their headphones. Velodyne products are available online at http://www.velodyne.com and from a select group of authorized dealers, custom installers and distributors worldwide. Since 2007, Velodyne's LiDAR division has emerged as a leading developer, manufacturer and supplier of high-definition LiDAR sensor technology used in a variety of commercial autonomous vehicle applications, including 3D mapping and surveying. For more information, visit http://www.velodynelidar.com.