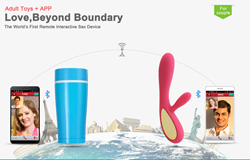 (PRWEB) January 03, 2014
In December 2013, a UK company EFEELINK launched a set of adult toys which can help separated lovers experience remote sex. The products have received a great response in the global market. Recently, a lot of EFEELINK users shared their experience on the internet.
A user from Japan states, "I receive many sex invitations through the EFEELINK app, KChat. My husband is always on business trips, and we always use these high-tech sex toys at night. Thank you, EFEELINK!"
Now, EFEELINK products have helped many users get an unprecedented sex experience. The company took account of many users and designed the products like a work or art rather than a sex toy.
Mark, an engineer of EFEELINK, said, "In the couple's interaction, any detail like the environment, clothing, or light, can affect the love of pleasure. The stimulation and pleasure that EFEELINK brings are exclusive compared with that from other ways of cyber sex."
About EFEELINK
EFEELINK, a UK company, is devoted to designing and creating innovative adult products based on modern science and technology. The company wants to help its clients worldwide find the right high-quality products to meet their individual desires. Visit http://www.efeelink.com/ for more details.
Follow EFEELINK at:
Facebook: http://www.facebook.com/efeelink
Twitter: http://twitter.com/efeelink