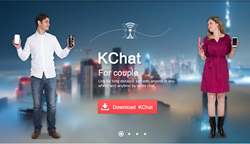 (PRWEB) January 05, 2014
In December 2013, a UK company EFEELINK launched a set of adult toys that can help separated lovers experience remote sex. The products have received a great response in the global market.
With real-time HD video, the lovers can enjoy the intimate time face to face. They can have a strong sense of reality through the real-time HD video as well. Holding the appropriate internet enabled sex toys, two lovers can remote control each other.
Remote sex can eliminate people's concerns and worries about sex. For instance, remote sex enables people to make love without any physical contact, so that people will not suffer the embarrassment and discomfort in the intercourse.
"Compared to promiscuity, remote sex is much healthier," said the CEO of EFEELINK, "EFEELINK is warm and humanized, and it can help people take off the mask in real life, and get rid of the suppression of desire to enjoy pleasure."
About EFEELINK
EFEELINK, a UK company, is devoted to designing and creating innovative adult products based on modern science and technology. The company wants to help its clients worldwide find the right high-quality products to meet their individual desires. Visit http://www.efeelink.com/ for more details.
Follow EFEELINK at:
Facebook: http://www.facebook.com/efeelink
Twitter: http://twitter.com/efeelink