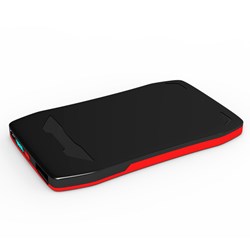 The ultra-thin portable charger with 2500mAh battery is one of the best convenient power bank.
Las Vegas, Nevada (PRWEB) January 06, 2014
During the CES 2014, which will be held in Las Vegas, amongst the many displays, Esorun will be introducing few types of stylish portable chargers.
The 1st one (Patent ID: ZL 2012 3 0449931.1) is a perfect emergency charger which owns a built-in Micro USB connector. Thanks to the USB connector, users will no longer have to be bound by limitations of a cable. The Micro USB connector is concealed to the main body, which looks like a power lock.
The features of the first portable charger includes:

Capacity: 1600 mAh
Polymer Battery
Input & Output: DC5V 1A
Charge Time: Only 1.6 hours
Weight: 50g (users won't even notice it there)
Recycling full charging times: 500 times
This power bank also has three LED indicators to tell the battery status – it is always ready to go. It is available in Black, White, Blue, Orange, Pink and Red.
The Second Portable Charger:
The second portable charger is ultra-thin. It is so slim that the user can easily slip it into their pocket or notebook. The features of this charger include:
Charge Time: 2.5 hours
Weight: 90g
Output & Input: DC5V 1A
Capacity: 2500mAh
Polymer Battery
Size: 101.9x59.8x7mm
Recycling full charging times – 500 times
4 LED indicators to indicate the battery status
This charger is also available in White, Black, Red, Gold and Silver.
For those individuals who are interested in attending CES 2014 to see these products Esorun will be releasing, their booth number will be 61010 in LVH hall.
About Esorun:
Esorun is the leading provider of iPhone accessories, ipad accessories, wireless external drives, power banks, Qi wireless chargers and other accessories for smart phones. They have been in business for many years and are located in Shenzhen, China.