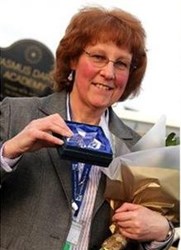 I'm really enjoying my role as a supply teacher – especially in this school, as I have a lovely tutor group and some fantastic classes.
Stafford shire, United Kingdom (PRWEB UK) 3 January 2014
A Chasetown supply teacher has fought off competition from more than 250 people, to be crowned secondary supply teacher of the term.
Carolyn Hall, who has worked as a secondary school teacher for over 20 years, was nominated for the award by her fellow staff at Erasmus Darwin Academy, where the 55-year-old science teacher has been providing cover for five months.
The awards, which were launched by education recruitment agency, Aspire People, received nominations from schools across the Midlands and the business's recruitment consultants.
Carolyn, who has worked at more than 10 schools during her career, decided to do supply work after taking a break from teaching earlier this year.
She was presented with the award at the school in Pool Lane, Chasetown, by Aspire People's consultant Emily Kramer, who works with secondary schools in the Staffordshire region.
Speaking of the surprise accolade, Carolyn said: "This was completely unexpected, but it's lovely to have my hard work recognised after a time away from the classroom.
"I'm really enjoying my role, especially in this school, as I have a lovely tutor group and some fantastic classes."
Jane Entwistle, office manager at Erasmus Darwin Academy, said: "Carolyn always goes above and beyond what is expected.
"She cares about the students she teaches and has really thrown herself into the role of form tutor, which is fantastic for the school."
Aspire People is one of the largest, privately owned education recruitment agencies in the UK. Not just a supply teaching agency but offers recruitment services to the whole of the education industry. Aspire People help around 600 professionals in to work across the west and east Midlands every week. Not only do Aspire People help professionals find exciting teaching jobs but office and technical support jobs also.