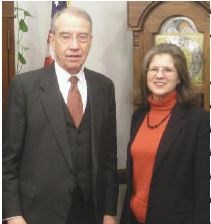 Frederick, MD (PRWEB) January 05, 2014
Frederick, MD Readers and editors of the international online publication, Biofuels Digest, for the fourth year recognized Advanced Biofuels USA executive director Joanne Ivancic as one of the Top 100 People in Bioenergy for 2013. Advanced Biofuels USA, an internationally respected nonprofit educational organization, is dedicated to promoting the understanding, development and use of advanced biofuels as an energy security, economic development, military flexibility and climate change/pollution control solution.
"This recognition from a select group of people around the world who have expertise in this area means a great deal to me," said Ivancic. "It acknowledges not only the work done by the executive director, but that done by all the volunteers who comprise the organization and without whom nothing would be achieved. My thanks to all who voted to give the organization this honor."
In today's announcement of the list of 100 and an additional list of 300 leaders who received votes, Jim Lane, editor and publisher of Biofuels Digest, explained, "Overall, leaders from organizations based in 15 different countries were recognized in the poll — the highest number of countries represented since the poll debuted."
All those recognized in the Top 100 People in the Bioeconomy rankings receive a complimentary delegate pass to the Advanced Biofuels Leadership Conference, April 21-23 2014 in DC — where industry leaders will chart and review new opportunities and challenges to the bioeconomy's progress in 2014.