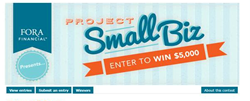 "My team and I are very excited and interested to learn about small businesses across the country that we could possibly assist in funding, whether it's for growth or to sustain the business." - Jared Feldman, CEO & Founder
New York, NY (PRWEB) January 06, 2014
Fora Financial proudly presents "Project Small Biz" which is a unique contest that hopes to learn more about how small businesses would use additional funding and to give back to small businesses nationwide. The contest includes a prize of $5,000. Fora Financial invites small business owners to enter by submitting a photograph of their business on Fora Financial's Facebook page, along with a brief description of how Fora Financial could help grow or sustain the enterprise. The winner will be based on number of "likes" received via Facebook.
"We decided to create this contest using a popular social media channel to become acquainted with more small businesses nationwide," CEO and Founder, Jared Feldman said. "We've never seen a contest like this in our industry. My team and I are very excited and interested to learn about small businesses across the country that we could possibly assist in funding, whether it's for growth or to sustain the business. Many small business owners are not familiar with other financing options aside from banks, such as direct providers of working capital like Fora Financial."
The contest will run beginning at 12:01 a.m. on January 6. All qualified entries through 11:59 p.m. on January 19 will be posted on Fora Financial's Facebook page, and then Facebook users will be invited to like their favorite entry.
For more information about the social media contest rules and to enter the contest, please visit http://www.facebook.com/fora.financial.
About Fora Financial
Fora Financial offers flexible, working capital solutions to small businesses in need of financing to sustain or grow their enterprise. The Manhattan-based company places a high value on trust and transparency and provides businesses with quick, customized financial solutions utilizing its state-of-the-art technology platforms. Founded in June 2008, Fora Financial has provided more than $145 million to nearly 4,000 customers.
###