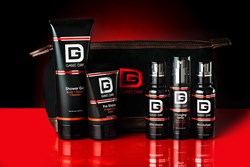 New York, NY (PRWEB) January 06, 2014
Leading men's anti-aging and anti-acne specialist, Game Day, has announced that it has launched on beauty and skincare hyperstore Birchbox. Birchbox will carry Game Day's entire line of industry leading formulas on their webstore. Game Day will also be featured in the January Edition Men's Birchbox, which brings members access to sample the best, newest and most innovative in high-end men's skincare monthly. Birchbox Man subscribers will find a Game Day Shower Gel: Body + Facial Cleanser or Game Day Pre-Shave: Ingivorating Scrub in their January box.
"We are extremely excited for the opportunity to offer our leading formulas to Birchbox and their customers. We are thrilled to begin building a relationship with their industry leading team and cater to their dedicated customer base." – Demetri Demascus, CEO (Game Day Men's Products, LLC.)
Birchbox will stock Game Day's Shower Gel: Body + Facial Cleanser; Aftershave: Soothing Balm; Pre-Shave: Invigorating Scrub; Moisturizer: Hydrator + SPF30+; Charging Spray: Energizing Facial Tonic; and, Active Living Set.
"Men need to take notice that you are never too young or old to care for your skin. The younger you start an anti-aging program, the younger you will look through the years. Even if you are older and show signs of aging, our products are designed to reverse the signs of aging by smoothing over fine lines and wrinkles. Proper skincare is just as much an essential part of daily care for men as it is for woman." – Dr. Kerry Demascus, President (Game Day Men's Products, LLC.)
About Game Day:
Game Day produces the only high-performance skincare specifically designed for men. All Game Day products are formulated from natural ingredients to lead the industry in anti-aging and anti-acne technology. All Game Day products are manufactured in the U.S.A. and adhere to the strictest standards including natural, paraban free, allergy free, gluten free, cruelty free, free from animal bi-products, no GMO's, safe for sensitive skin and packed in green, airless bottles. Game Day exclusively uses the rare Alpine-Willowherb Extract to keep skin clean and clear. Game Day also has pioneered the use of Pear Cactus Extract in men's skincare to hydrate the skin in order to help combat the negative effects of aging. Game Day also takes advantage of Aloe, Alpha Lipoic Acid, Argireline, Black Tea Extract, Makandi Root Extract, Green Tea Extract, Hyaluronic Acid and Seaweed Extract. Game Day was launched in 2013 by father son team of Dr. Kerry Demascus and Demetri Demascus. Dr. Demascus has over 20 years of experience and expertise in the field of facial aesthetics. For more information on Game Day check out http://www.gamedaymens.com. Please follow Game Day on Facebook, Twitter, Pinterest, and Instagram.
About Birchbox:
Birchbox is an innovative, high-end beauty and skincare web-based distributor. Their E-Commerce platform carries only the very best in beauty, anti-aging, daily care and lifestyle products. In addition to their leading webstore, Birchbox rose to prominence in the competitive beauty industry through their ability to pioneer subscription-based e-commerce. Founder's Hayley Barna and Katie Beauchamp increased the effectiveness of traditional sampling programs by identifying highly targeted consumers that a brand could not traditionally reach. The Birchbox model encourages customers to build a relationship with the products they like through a loyalty program. Birchbox currently has both men's and woman's boxes. Subscribe to Birchbox or show their webstore at http://www.birchbox.com.
Source:
Game Day Men's Products, LLC.
customerservice(at)gamedaymens(dot)com
http://www.gamedaymens.com