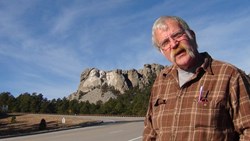 "People and communities need to be ready and prepared so they're not left waiting for help that may come too late – or never. No one is going to do it for you."
Pennsauken, NJ (PRWEB) January 05, 2014
Hurricanes. Government Shutdowns. Power Outages. Every day, somewhere in America, people endure natural disasters, economic hardships and the loss of proper food clothing and shelter.
Now two dynamic speakers, Phil Mitsch and Frank Belcastro kick-off their lecture series on January 9th, 2014 at the Camden County Boathouse in Pennsauken, New Jersey to an invitation-only audience. At 6:15 p.m. Belcastro will take front and center to stir memories of lost independence, in exchange for a comfortable life on the grid. As a lifelong advocate of self-reliance and emergency preparedness, Belcastro is passionate about educating others on how to be properly prepared to not only survive, but flourish in times of trouble. His multi-media event is an hour of empowering tips that includes a questions and answers segment.
He and his family have been featured on the History Channel, in the news media, and on a Web-based reality show, and has now created a website -- http://www.franksnewindependence.com – to continue teaching preparedness and self-reliance.
"We often come together as a nation to help people in times of trouble. But we do more to heal the pain than prevent it," said Belcastro. "With a little preparation, we can handle matters much more wisely and efficiently."
Belcastro, a Lehigh Valley resident, stresses more is needed than just keeping a flashlight beside the bed, or bottled water in the pantry. It means understanding what to do when cut off from the outside world for days or weeks.
Belcastro believes most of us have become more and more reliant on outside agencies helping out during disasters, which leaves us all dangerously vulnerable.
"People and communities need to be ready and prepared so they're not left waiting for help that may come too late – or never. No one is going to do it for you," said Belcastro.
Then at 7:45 p.m. South Jersey's own Phil Mitsch unveils "Shockonomics", his revolutionary economic recovery program. With a combinations of jaw-dropping statistics and accounts of government blunders; Mitsch will show how the balance of power is not in the American people's favor any longer. He believes the distribution of wealth has been a carefully calculated joint venture between big business and government, Mitsch promotes his plan for economic recovery that starts in every Americans' own home. "It's a big and bitter pill to swallow," says Mitsch, "but nobody is going to save you and make your lives better without your taking steps to save yourself and understand the forces at work that got us in this predicament in the first place."
Mitsch is an author, real estate trainer, motivational speaker and the real estate industry's all-time leading residential producer. He is now providing insights to guide us through the new America. "All people desperately need solutions that will significantly improve both their personal and professional lives during the most horrific economic climate in world history," says Mitsch.
Both Phil Mitsch and Frank Belcastro will be available for a media reception on site from 5:00 p.m. to 6:00 p.m.in the main ballroom. The event will be recorded by Keystone Pictures for future webcasting within each speaker's respective websites.
For further information, please contact Cathy Melfi from Creative Freedom at 1-888-856-4593 or email her at cathy(dot)melfi(at)gmail(dot)com.
Future speaking dates and locations are still being scheduled.