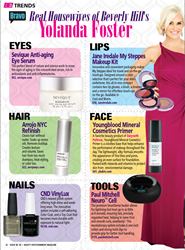 "We take great pride in our reputation and are thrilled to have this kind of recognition amongst the who's who of the salon and spa industry." — Susan Nickell, President, Glacier Labs, Inc. & Sevique founder
(PRWEB) January 03, 2014
Dedicated to helping spa professionals better their businesses by providing owners and managers with inside information on trends and the highest quality news stories, American Spa magazine claims to disseminate more relevant information than any other industry publication and they chose to highlight the entire Sevique line in their coveted "Spotlight" section of their December issue.
Also a top honor for Glacier Labs, Inc. was having Sevique's Anti-aging Eye Serum selected for use in the "Trends" section of BE, Beauty Entertainment magazine's latest issue. With their finger on the pulse of the hottest of hot in the salon world, inclusion in their publication is truly a privilege.
Sevique is an innovative new skin care line that blends the highest quality natural ingredients with the most advance skin care science resulting in a simple, seven product, skin care line that has amazing results with almost any skin type and is currently available through select salons and spas as well as online.
For more information on Sevique, please contact us at http://www.sevique.com or 800-695-8711.