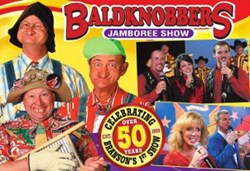 I took my parents and 3 kids to see The Baldknobbers and now understand why they were Branson's first show. It was awesome.
Branson, MO (PRWEB) January 03, 2014
People talked, The Baldknobbers listened. For the first time ever, the Baldknobbers are extending their winter season. Branson guests and locals alike have asked for a little more fun this winter...and the Baldknobbers are sure to never disappoint. The whole gang is gearing up to give audiences lots of laughs and country music that can shake off any winter chill! Starting this Friday, January 3, the Baldknobbers will perform select Friday, Saturday, Monday and Wednesday evenings. Let Droopy, Hargus and the whole Baldknobbers' crew wash away your winter blues this season.
Can't make it to Branson one of these chilly nights? No worries because the Baldknobbers aren't hibernating. They're loadin' up the bus and taking to the road! For tour date information, call the office at 1-800-432-4202.
Just when you thought it couldn't get any more exciting, the Baldknobbers are gearing up for 2014--their biggest season yet! World famous banjo player, Buck Trent, will be taking to the Baldknobbers' stage each morning to show off his unforgettable talents. Afternoons will bring a moment in history to life with legends, "Sons of the Pioneers". Of course, the Baldknobbers will hit the stage each night as the second and third generations stay true to their family's legacy--performing new and old country mixed with southern gospel and hilarious comedy. There is truly something for every age.
With the Baldknobbers making history nightly since 1959, they are looking forward to their biggest year yet. Don't miss any of the fun 2014 has in store. For details and information on all things Baldknobbers, visit http://www.bransonticket.com and be sure to visit the Branson Ticket & Travel Facebook page. Y'all come see us!