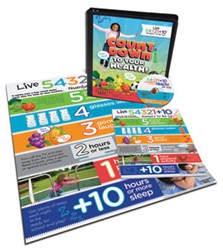 When children learn the importance of making daily healthy choices, they learn these lessons for life.
Owatonna, MN (PRWEB) January 09, 2014
It's an easy thing for anyone to remember: 5-4-3-2-1+10®. And it's how children across the country are learning to make smart and healthy choices on a daily basis.
Thanks to the clever vision of Learning ZoneXpress, teachers all over the U.S. are encouraging their young students in grades K-5 to "live by the numbers" and lead a healthier life, even at their tender young ages.
Here's how 5-4-3-2-1+10 helps kids remember each daily wellness tip:
5 servings of fruits and vegetables
4 glasses of water
3 good laughs with friends
2 hours or less of screen time
1 hour of physical activity
+10 hours of sleep a night
The 5-4-3-2-1+10 Program is packed with valuable teaching opportunities and fun group activities to capture young people's imaginations and mindsets. The program includes an 18-minute DVD "5-4-3-2-1+10 Countdown to Your Health for Kids," hosted by Davina Joy, which leads children through the facts and figures behind the 6 simple healthy things they can do each day. The DVD also features kids of all ages sharing how they live by the 5-4-3-2-1+10 numbers themselves.
"When children learn the importance of making daily healthy choices, they learn these lessons for life," says Melanie Nelson, founder and chief executive officer of Learning ZoneXpress. "They've even been known to teach their parents a thing or two," she adds with a smile.
In addition to the DVD, there are 15 products available for the 5-4-3-2-1+10 Program, including a Written Lesson Plan, complete with worksheets and fun activities to explore each number as a class, plus a great assortment of Activity Books, Posters, Handouts, Bookmarks and more.
"While the 5-4-3-2-1+10 Program is taught one class at a time, it's really a program that can benefit the entire school system and community," Nelson says.
"Healthy living is utterly contagious. When a little son or daughter asks why there are no green vegetables at the dinner table, the whole family takes notice. That "aha" moment is a very good thing for families. And for the community."
To learn more about the 5-4-3-2-1+10® Program from Learning ZoneXpress, visit http://www.learningzoneexpress.com.
About Learning ZoneXpress
Learning ZoneXpress, based in Owatonna, Minn., is a leading source of award-winning nutrition education tools. Its mission is to help improve the health and vitality of young people through relevant, creative and affordable learning tools about healthy behaviors and nutrition. Learning ZoneXpress offers a wide variety of educational products including posters, handouts, videos, games and lesson plans. For more information about Learning ZoneXpress and 54321+10® Program, visit http://www.learningzonexpress.com or call Toni Meyer at 888-455-7003.