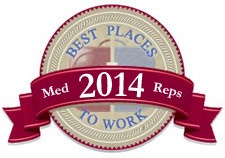 "With this data, we hope to help job seekers find the best opportunities available." - Robyn Melhuish
Alpharetta, GA (PRWEB) January 14, 2014
A new survey by MedReps.com (http://www.medreps.com/), a job board for medical sales representatives, revealed that Medtronic is once again the overall best medical sales company for which to work, as voted by more than 1,000 members of the MedReps.com community. Also at the top of the list were Stryker and Boston Scientific. The 2014 Best Places to Work in Medical Sales Survey provided insight into additional aspects of medical sales companies that are most valued by sales representatives, including size, type of sales, competitive compensation, and commitment to research and development.
"It isn't just medical sales companies that can benefit from the data found in this survey," said Robyn Melhuish, Communications Manager at MedReps.com. "Job seekers can also gain a better understanding of what companies align with what they value most and pursue a more targeted search."
Notable findings from the survey include the following:

Medtronic was ranked as the overall best medical sales companies for which to work, with Stryker and Boston Scientific ranked as second and third, respectively.
While those that were ranked highest are all large companies, more than half of respondents said they'd ideally like to work for a medium-sized company (48 percent) or a small company (11 percent).
More than half (53 percent) of all respondents prefer to sell medical devices or medical equipment.
Survey respondents overwhelmingly ranked competitive compensation and commission structure as the most important benefit offered by a prospective employer; work-life balance was a close second.
The medical sales professionals surveyed highly value a company committed to research and development.
When it comes to evaluating prospective employers, medical sales professionals want to know the company has a strong product line. In this fast paced, ever-changing industry, sales representatives desire a company committed to research and development that will continue to offer quality products in the future.
"With this data, we hope to help job seekers find the best opportunities available," Melhuish said. "But they must also remain flexible. Not every job seeker will be hired by the top ranked companies, but there are thousands of other growing healthcare companies willing to pay for top talent."
This survey analyzed data collected from more than 1,000 professionals currently working in medical sales. To access more information from this survey, click here.
About MedReps.com
MedReps.com is owned and operated by Healthcare Staffing Technologies. As the leading job site in its niche, MedReps.com gives members access to the most sought after medical sales jobs and pharmaceutical sales jobs on the web. Members have access to approximately 9,000 jobs and can apply directly to the recruiters and hiring managers who post them. For more information on the No. 1 site for medical sales, marketing, and management careers, please visit MedReps.com.
###