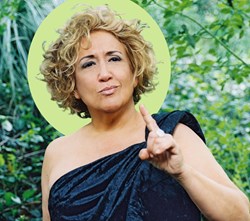 "Reno is a brilliant and original artist whose barn burning insights will leave blisters on your brain and your funny bone. She blends heart and wit in a truly remarkable way." - Lily Tomlin and Jane Wagner
Owings Mills, Maryland (PRWEB) January 09, 2014
Cross-cultural childhood adventures and family challenges are the theme of this hysterical night of insightful comedy at the Gordon Center - Baltimore County's premier performing Arts Center located in Owings Mills, Maryland. This Afro-Jewish Comedy Night, featuring Baltimore-based comedian Meshelle and New York-based comedian, Reno, is co-sponsored by the Creative Alliance. It will be held Saturday February 1, 2014 at 8:00pm.
Meshelle shares her stories of moving from West Baltimore to a Jewish suburb while Reno divulges her experiences of being abandoned by a clairvoyant bio-mom.
Meshelle goes by the moniker "The Indie-Mom of Comedy". She is an Open Society Institute Community Fellow (2010-2012) and the founder/Director of GoalDIGGERS The Sankofa Project http://fusionpartnerships.wordpress.com/sponsored-projects/goaldiggers/. She is also an award winning playwright for her work "Diary of a MILF (Mom I'd Love to FOLLOW) and the author of "101 Things Every Girl/Young of Color Should Know".
Reno is described as a quick-witted, heavily improvising comedian with a knack for spinning off-the-cuff observational humor into strikingly incisive displays of socio-political consciousness. "Reno is a brilliant and original artist whose barn burning insights will leave blisters on your brain and your funny bone. She blends heart and wit in a truly remarkable way." - Lily Tomlin and Jane Wagner
Tickets are $25 in advance and $29 at the door.
Four Easy Ways to Order Tickets:
Online: http://www.gordoncenter.com
In Person: Rosenbloom Owings Mills JCC Cashier's Office at 3506 Gwynnbrook Ave. Owings Mill, MD 21117
By Phone: 1-800-518-2819, ext. 2
By Fax: 410-356-7605
To check Box Office hours call 410-356-SHOW (7469), press #4.