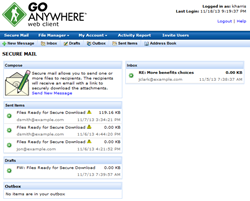 We know cloud file sharing services are really tempting because they're so easily accessible. We also know that they're a nightmare for the IT team to manage.
Omaha, NE (PRWEB) January 07, 2014
Linoma Software is proud to announce comprehensive updates to its secure FTP server software, GoAnywhere Services™, with the release of version 3.4. New features are specifically designed to promote user collaboration and secure file transfers.
Collaboration - Secure web file sharing
Cloud-based file sharing tools can circumvent security policies when employees try to share sensitive files outside of the organization's control. In contrast, GoAnywhere Services 3.4 is an on-premise solution that allows employees to easily collaborate and share files with others, while keeping control over the files with strong encryption and audit trails.
"We know services like Dropbox and Google Drive are really tempting because they're so easily accessible," said Steve Luebbe, Lead Software Engineer for GoAnywhere. "We also know that third-party file sharing is a nightmare for the IT team, especially those charged with maintaining compliance with HIPAA, PCI DSS, SOX and other regulations. We wanted GoAnywhere Services to deliver the convenience of cloud-base services, but also incorporate the rigorous security features many organizations require."
Authorized users can share files and folders with other users from within the GoAnywhere Services Web Client, and administrators can audit where data is going to ensure compliance with industry and government regulations. Granular permissions can also be set for users and the content they can share.
Collaboration has also improved in GoAnywhere Services Secure Mail with a new 'Reply To Sender' feature.
"Not only can users send email messages and attachments securely, but with 3.4, recipients can now reply with messages using the same security features," Luebbe said.
Coordination - LDAP and AD integration to manage users
Version 3.4 adds more functionality for IT administrators to better manage their GoAnywhere users accounts with enhanced LDAP and Active Directory (AD) integration.
"IT admins can now synchronize users from their LDAP or AD server," Luebbe said. "During the synchronization, GoAnywhere automatically creates or modifies user accounts from your LDAP or AD server based on the templates you define."
User groups in GoAnywhere can also be mapped to LDAP or AD groups allowing group membership to be maintained using the existing user provisioning system. Also included are login testing and robust logging to make it easy to troubleshoot issues and ensure user settings are applied correctly.
Another new feature helps administrators keep track of routine system events, such as SSL Certificate expirations dates, or impending JVM Memory threshold limits.
Luebbe said, "Your system administrators are busy people, and can't always make the time to actively monitor these things. That's why we've introduced System Alerts to notify them in advance of critical events so they can be resolved before problems occur."
Communication - Multi-lingual options
In GoAnywhere Services 3.4, the browser-based Web Client is now available in Spanish, French, German and Japanese.
"Many of our customers are doing business globally," Luebbe said. "so it is important that their employees and customers can share files using screens in their own native languages."
GoAnywhere Services 3.4 includes many more enhancements, including a new address book, email address rules, drag and drop support, Secure Mail password settings, a Secure Mail Inbox, encrypted folders, and much more. View the entire feature list here.
For more information about GoAnywhere Services and other GoAnywhere products, visit GoAnywhere.com to see product specs, customer testimonials and additional research materials. Fully functional trials of GoAnywhere software are available, and live demo requests are encouraged.
--------
About Linoma Software
Founded in 1994, Linoma Software provides innovative solutions for managed file transfer and data encryption. With a diverse install base of more than 3,000 customers around the world, Linoma's focus on research and development, as well as customer service and support, contributes to its leadership in the software industry.
About GoAnywhere™ Managed File Transfer Suite
GoAnywhere™ is a managed file transfer and secure FTP solution that will streamline and automate file transfers with trading partners, customers, employees and internal servers. Enterprise level controls and detailed audit logs are provided for meeting strict security policies and compliance requirements including PCI DSS, HIPAA, HITECH, SOX, GLBA and state privacy laws.
GoAnywhere can be installed on most platforms including Windows®, Linux®, IBM® i (iSeries®), UNIX®, AIX® , and Solaris®, and supports popular protocols including FTP, SFTP, HTTPS, and AS2. Optional modules include Secure Mail for ad-hoc file transfers and NIST® certified FIPS 140-2 validated encryption.
The GoAnywhere solution is comprised of three products:
>>GoAnywhere Director™ - Managed File Transfer (scheduler, workflow automation, file encryption, etc.)
>>GoAnywhere Services™ - Secure FTP Server and optional Web Server
>>GoAnywhere Gateway™ - DMZ Gateway with Reverse and Forward Proxy
Visit GoAnywhere.com to download a free trial.