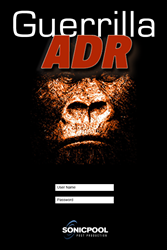 We developed the Guerrilla ADR app to help ease the stress.
Hollywood, CA (PRWEB) January 03, 2014
The Guerrilla ADR App for iPhones from SonicPool Post Production is now available. SonicPool Post Production has created an on-the-go ADR App for use when talent is unable to get to a recording studio.
The App allows users to record ADR lines right on their iPhone. John Frost, sound mixer and CEO of SonicPool Post Production says the app is incredibly helpful for all types of productions. "Historically, we've found ourselves in situations where talent has been unable to get into a recording studio to record ADR lines. On many occasions we are only in need of 2 or 3 ADR lines, which make it even more frustrating for clients. Therefore, we developed the Guerrilla ADR app to help ease the stress."
Guerrilla ADR (GA-1) gives the talent the ability to download the free iPhone app, pop on a pair of headphones and record their ADR lines in perfect sync with picture. They can preview a video clip of the line along with a text description of the line below it. Frost says the app is easy to use and an effective tool for post production. "They can record the ADR line as many times as they like so that they can get it just right. It's actually pretty fun."
Guerrilla ADR is compatible with the iPhone 3GS – 5 models, the 3 thru 5 generations of the iPod Touch and the iPad. Guerrilla ADR provides better results with the iPhone 5 or higher. It also requires iOS 6.1 or later. Guerilla ADR is currently available in the App Store. SonicPool Post Production is located at 6860 Lexington Ave, Hollywood, CA, 90038. For more information about SonicPool Post Production, call 323-460-4649 (4MIX), or check out the website at http://www.sonicpool.com.