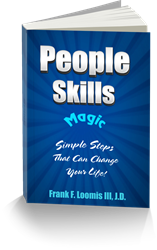 "A comprehensive, insightful guide to interpersonal relations . . . ." —Kirkus Reviews
San Antonio, Texas (PRWEB) January 07, 2014
In decrying neglect of people skills, which curt, impulsive communicating via Twitter, Facebook, and texting, arguably foster, "People Skills Magic," a new book, provides readers reality checks. Then with a multitude of "dos" and "don'ts," it tries to help readers ingrain sound habits of treating others well no matter the means of communication.
From a unique and modern perspective, here are some typical topics the book covers:

Not talking down
Not being dogmatic
Admitting mistakes
Listening and responding adequately
Praising adequately
Making someone's day
Being considerate
Those plus 200 similar topics await readers in People Skills Magic ($9.99, Glenn Publishing, 2013), a 25 chapter EBook (262 + – print-pages) by Frank F. Loomis III, J.D.
And according to Loomis, "The book not only tackles just about every people skills problem imaginable but provides help with communication skills and relationships. Almost anyone can benefit from reading it."
He adds: "If readers religiously practice the things this book teaches, it could change their lives substantially for the better. The results can be amazing."
This is the second book on people skills that Loomis, a World War II veteran and appellate attorney, has written. His first, "How to Improve Your Relationships, Dramatically," was published in 2000.
In this new work, he offers solutions to people skills problems by presenting realistic dialogues between people and critiques of what they say. His writing style is "folksy." He imagines himself sitting at a reader's kitchen table counseling her or him while sipping tea and munching cookies.
Loomis says he doesn't bore readers, because he doesn't delve into abstract theories like many writers of self-improvement books do, and end up putting readers to sleep. Furthermore, his teaching does not stem from academics.
Instead, as he puts it, he's a graduate of the proverbial college of hard knocks. He's learned from the "zillion" mistakes he's made while serving as CEO of three small corporations, relating with thousand of employees, chairing a state commission, raising seven children, and practicing law for 36 years.
Loomis adds that underpinning what he teaches is a transcendent-people skill principle he has learned the hard way: "As incredible at first blush it seems, before you can get people to like you, you first have to make them like themselves. So, no matter how well you treat people or how personable you are, they won't like you if you somehow, even innocently, lower their self-esteem or make them feel bad about themselves."
That realization motivated him to coin two-special terms: "MakeFeelGoods" and "MakeFeelBads." He tells readers the obvious: They should deal people as many of the first and few of the second as possible.
At the book's end, Loomis includes the essence of that same pointer when he states his bottom line: "Try to always leave the persons who are part of your life, or that you encounter, feeling good about themselves after their contacts with you."
"People Skills Magic" ($9.99, ISBN: 978-0-967-2089-1-6) is available at most online retailers and at the book's website: PeopleSkillsMagic.com. Also available there, are the table of contents, three sample chapters, reader feedback, and a book review. For the author's photo and bio, go to: FrankFLoomisIII.com.
# # #
Contact: Frank F. Loomis III
(210) 495-2937; loomisappeals(at)ymail(dot)com