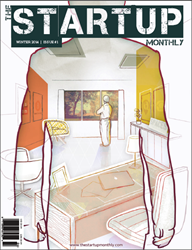 The Startup Monthly magazine will help empower startup activists and provide the education and resources necessary to help connect entrepreneurs and investors within the international startup community
LAS VEGAS (PRWEB) January 06, 2014
Social Media Insider, LLC is pleased to announce the official launch of The Startup Monthly magazine at New Media Expo in Las Vegas, Nevada at booth 517.
According to Forbes, there are almost 28 million small businesses in the United States and over 22 million are self-employed with no additional payroll or employees. Additionally, small businesses have generated over 65 percent of the net new jobs since 1995.
This anticipated sister magazine of The Social Media Monthly will offer rich and relevant content helping build and connect this growing startup community. Articles from entrepreneurs, investors, and other business-minded individuals, thought leaders, and experts will provide insight detailing trends, key players, challenges and opportunities facing the startup world today.
"As a source of insight connecting passionate individuals, The Startup Monthly magazine will help empower startup activists and provide the education and resources necessary to help connect entrepreneurs and investors within the international startup community," said Robert Fine, founder of The Startup Monthly and The Social Media Monthly. "Entrepreneurs are versatile and solution-oriented individuals, and we hope this magazine will help give startups a voice and bring to light their invaluable contributions to the United States economy."
There are four founding principles and goals that The Startup Monthly plans to develop and encourage through the new publication:
1) Support the growth and careers of women entering the tech sector and encourage more women in science, technology, engineering, and math.
2) Contribute to the recovery and growth of the U.S. economy through promoting the startup sector and the job growth and creativity that it adds to the U.S. society.
3) Encourage the growth and development of the crowdfunding sector on its own and as it relates to the JOBS Act of 2012.
4) Expose readers more to what is happening in the startup and investor communities around the world.
The Startup Monthly magazine provides the facts to help entrepreneurs and investors understand the dynamic nature of the startup world. A monthly forward-looking, fact-based issue provides new insights to decision makers, trendsetters, and policymakers.
This launch magazine is in preparation for a planned retail release in March 2014. Currently, there will be a six issue run for 2014, with a planned increase to ten issues in 2015.
To download the first issue of The Startup Monthly for free, please visit http://TheStartupMonthly.com.
About New Media Expo (NMX)
New Media Expo (NMX), formerly BlogWorld, New Media Expo is the first and only industry-wide tradeshow, conference and media event geared specifically for content creators including Bloggers, Podcasters, Web TV & Video series producers, and is dedicated to promoting the dynamic industry of new media. Thousands of leading content creators, representing more than 50 countries, come to network and learn about Content Creation, Distribution, Monetization and Social Media Marketing strategies, including step-by-step techniques and leading-edge tools from the most successful and influential new media pros. Additionally, NMX features a resource-packed trade show, the industry's only comprehensive new media exhibition for finding solutions and making important new media technology, service and product purchase decisions.
About The Social Media Monthly
The Social Media Monthly is the first and only print magazine devoted exclusively to unlocking the truly explosive power of social media for its readers. The Social Media Monthly is on the frontlines showing innovators, thought leaders, and extraordinary everyday folks how to do something new, something different, and something more with social media.
This magazine explores the timely trending topics that really matter to readers, including penetrating interviews and stories with today's who's who in social media, the latest leading-edge platforms, new and original apps, important marketing strategies, and so much more of the juicy good stuff that savvy readers crave.
Founded in 2011 and published by Washington, D.C.-based technology group, The Cool Blue Company, The Social Media Monthly went from pie-in-the-sky idea to print in just 53 days. Three weeks later, the magazine secured national distribution with Barnes & Noble and can now be found in 20 countries around the world, Walmart Canada, and airports across the U.S.
Named "One of the Fifteen Hottest Magazine Launches of 2011" by MIN, The Social Media Monthly is the preferred choice of forward-thinking start-ups, entrepreneurs, marketers, analysts, strategists, teachers, and students – people who want to be the first to get their hands on the latest and greatest next best thing social media has to offer.