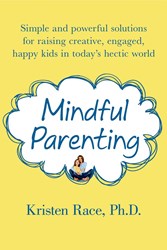 'Busy parents will benefit from Race's balanced approach and bounty of family-friendly ways to decompress.'--Publishers Weekly
(PRWEB) January 07, 2014
Rooted in the science of the brain and integrating cognitive neuroscience and child development, Mindful Parenting: Simple and powerful solutions for raising creative, engaged, happy kids in today's hectic world (St. Martin's Griffin; January 7, 2014) by Kristen Race, Ph.D. is a unique method that speaks directly to today's busy families who make up what Dr. Race calls "Generation Stress."
Research has shown that mindfulness practices stimulate the prefrontal cortex of the brain. Regular stimulation of this part of the brain helps us feel happier, healthier, calmer, less anxious, less stressed, and makes it easier for us to concentrate and think clearly—the very behavior we are hoping our children will display.
Mindful Parenting understands the realities of raising a family in our fast paced and often-frenetic world and provides hundreds of easy-to-implement solutions, both for parents and their children, to help them manage stress, create peace, and live happier lives.
About Kristen Race, PH.D.
Kristen Race Ph.D. is a parent of two young children, as well as an expert in child, family and school psychology. Dr. Race is a regular blogger with Psychology Today and the founder of Mindful Life, which provides brain-based solutions for today's families as they try to manage the stresses of modern day parenting. All of her services are rooted in the science of the brain with influences from the fields of mindfulness and positive psychology, designed to improve brain function and brain development in adults and children.
Dr. Race has spoken nationally at the National Association of School Psychologists Conference and at the International Scientific Conference for Clinicians, Researchers and Educators, as well as in communities across the country. She has also appeared on many television news programs, providing parent education on topics ranging from bedtime battles to sibling rivalry.
Dr. Race is committed to early childhood education. She has created her own Mindful Life Schools method, which is currently being used in schools worldwide. She is the former director of counseling services for Colorado Academy and taught at New York's prestigious Buckley School. She also provides parent education to young families in her community. Finally, Dr. Race serves on the executive committee for First Impressions, her community's Early Childhood Council and is a member of the Rocky Mountain Youth Services Coalition, a network of youth advocates and service providers committed to enhancing the quality of life for youth and young adults in Steamboat Springs.
Dr. Race received her Doctorate and Master's degrees from the University of Denver, and her Bachelor's degree from the University of Colorado. She currently resides in Steamboat Springs, Colorado where she can be found mountain biking, hiking, playing soccer, and chasing her kids down the ski mountain!