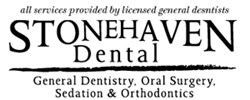 Salt Lake City, UT (PRWEB) January 06, 2014
The new group plan coverage offered by Stonehaven Dental is one of the most customer friendly moves from these professional dentists in Salt Lake City. By extending patients and clients the opportunity to save money on much needed dental care, Stonehaven surges forward in the effort to significantly shrink any financial obstacles that patients might encounter when trying to acquire health care.
By introducing bulk pricing for group for dental care, Stonehaven extends dental procedures and other oral care to those who wouldn't normally be able to have it. While money should never compromise the quality of care, it often does. That's why the Stonehaven dental offices in Utah are working around the clock to ensure that those who are truly in need of some financial help receive it. Important dental procedures such as root canals, braces, or even simple cleanings are often kept out of reach due to lack of financial reserve. With Stonehaven Dental's group plan coverage, this will no longer be an issue. It goes to show that not only is this particular dental clinic dedicated to the needs and concerns of their clients but also those of the entire community.
Now, with Stonehaven's group plan coverage, families and groups of people from every walk of life will be able to have access to truly great dental care. Dentists in Salt Lake City have been acknowledging the extreme commitment and dedication that Stonehaven Dental has been demonstrating by enacting policies such as this group plan coverage. Their plan strengthens not only the business itself as well as the clients and patients now able to receive care, but also the entirety of the community. Many don't realize the impact that health plans like this can have on an entire community, but luckily those who do are now able to truly benefit from it.
Bulk pricing also applies to individual procedures. For example, procedures such as root canals, cosmetic work, or cleanings can be quite reasonably priced. This again is proof of the steadfast commitment that Stonehaven has towards their clients and to their families, who would also be benefitting from this bulk pricing and inexpensive dental care. No longer are patients excluded from receiving the care they need due to financial limitations. For more information, visit their website at http://stonehavendental.com/.