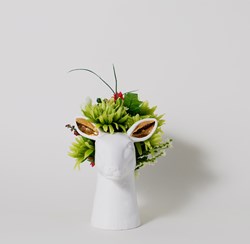 Toronto, Ontario (PRWEB) January 06, 2014
Win your sweetheart's love all over again with imm Living gifts that are fun and whimsical. Here's our ultimate gift guide to help celebrate this season of love.
Gifts for Him
Anchors Aweigh - Anchor and Cleat Cups
Make him your sailor boy with the Anchors Aweigh series Anchor and Cleat cups. Inspired by the sea, the Anchors Aweigh collection is perfect for any seaman or landlubber. Inspired by classic nautical hardware, the Anchor and Dock Cleat, are taken from their natural habitats and embellished with sleek gold details, and transformed into something classic yet elegant. So get all hands on deck, because this collection will make anyone feel like the captain of their very own ship.
Dinosaur Tribe Cob Holder
If he's still a kid at heart, then our Dinosaur Tribe Cob Holder will be the perfect gift for him this Valentine's. Designed by Lana Filippone, imm Living's Not Forkchops 2013 design competition, this spectacular collection of ceramic corn on the cob holders adds a touch of class and elegance to an act often deemed quite ordinary. Enjoy your next meal with a fanciful Tyrannosaurus Rex or Triceratops! These corn holders are great for keeping hot buttery corn from touching your fingers while having some fun!
Gifts for Her
The King's Subjects - Rooster, Rabbit & Doe
Opting for a fashionably late appearance, Rooster, Doe and Rabbit have arrived to join their friends of the king's court. Fit for a variety of tasks, these gold detailed containers join a loveable cast of creatures. Great for holding a variety of objects from a fresh bouquet of flowers, to your kitchen utensils, to those pesky tools scattered all over your desk, the King's Subjects are the perfect solution for all your orphaned objects.
The Crown Jewels Wall Hooks
Give your sweet heart the royal treatment with our The Crown Jewels Wall Hooks. Nothing is more awe inspiring than the beauty of the crown jewels. Drawing inspiration from the very headpieces that adorn the heads of royalty, the Crown Jewels series consists of two wall hooks, a bell jar, and a trinket dish. Befitting Camelot, the Crown Jewels Collection will make any pauper feel like a queen.
The imm Living team would like to wish you and your significant other a romantic Valentine's Day. For further information visit http://www.imm-living.com or email at info(at)imm-living(dot)com.
About imm Living
imm Living creates modern cultural artifacts by drawing from traditional and popular cultures. Our products address notions of the past and present by playfully reminding us that culture evolves through experiences lived and shared. Our products are a synthesis of these experiences and we embrace as artifacts. For more information, please visit our website http://www.imm-living.com.