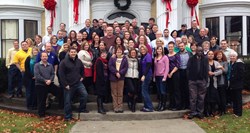 As a small but growing company, we have focused the past three years on expanding our employee benefits and continuing to make SaveAround a fun, enjoyable place for our employees to work.
Binghamton, NY (PRWEB) January 06, 2014
SaveAround is pleased to announce that it has been named one of the Best Companies to Work for in New York State for 2014. The annual awards are part of a distinctive program that evaluates and ranks the best places of employment based on employee satisfaction and engagement, as well as workplace practices and policies. Each company is judged by its own employee base through a comprehensive survey process.
"At SaveAround your hard work and dedication is both noticed and rewarded. It's a company that respects its employees," says Yassin Laroussi, a Professional Fundraising Representative who has been with the company for nine years.
As a family owned and operated company, SaveAround encourages employees to maintain a work-life balance and focuses on employment practices that are family-friendly, such as flex scheduling. Employees also enjoy a casual dress code and frequently partake in company-wide challenges and contests that offer opportunities to earn rewards including additional paid time off, complimentary lunches, company parties, paycheck bonuses, and gift cards. Most recently, SaveAround closed its corporate office and paid its employees during the week of Christmas after achieving a major company goal.
"We are truly honored and very excited to learn that we have earned this prestigious title of being one of New York's best companies to work for. As a small but growing company, we have focused on expanding our employee benefits and keeping SaveAround a fun, enjoyable place for our employees to work. It makes a statement that since our own employees were the major reason we earned this title, the improvements we have invested in and worked so hard to provide are valued by our employees," says SaveAround's Human Resource Manager, Whitney Beal.
SaveAround is a privately held company based in Binghamton, NY that produces North America's premier Fundraising Coupon Book, offering over 80 unique editions of local coupon books for cities across the US and Canada that are primarily sold by non-profit group fundraising programs. The company has helped thousands of groups raise more than $45 million dollars in the past ten years. It strives to be the leader in the fundraising industry by continuously improving the quality and value of the local merchant discounts in each coupon book and aggressively opening new markets across the country each year.
SaveAround will learn its ranking among the 32 small/medium sized companies (15-249 employees) in New York named "Best Companies" in a recognition awards event held in Albany in May 2014. For more information on the Best Companies to Work for in New York State program and to view a special publication highlighting each company's unique employment perks, visit http://www.BestCompaniesNY.com. For more information about SaveAround, visit http://www.SaveAround.com.