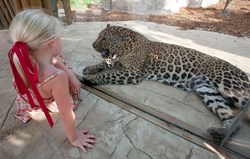 Voted "Best Place to Take The Kids" by Gulfshore Life magazine.
Naples, Florida (PRWEB) January 06, 2014
Naples Zoo at Caribbean Gardens is offering a bonus MLK Jr. Weekend Online Coupon for download at http://www.napleszoo.org. Families can enjoy a full day of fun presentations, a cruise through islands of monkeys, and the historic botanical garden filled with rare animals featuring all the new South American wildlife including a giant anteater, Patagonian cavies, cotton-top tamarins, and more. It's also a great time to hand-feed the giraffes and ride a camel. The coupon is valid for one free child with each paid adult from Friday, January 17 through Monday, January 20, 2014. Remember, the online coupon at http://www.napleszoo.org is required.
Wild Fun For Kids All Day: (VIDEO OVERVIEW)
Voted "Best Place to Take the Kids" by Gulfshore Life magazine.

Feed a Giraffe: Kids love watching the world's tallest animals lean over to slurp a snack out of their hand! (GIRAFFE VIDEO)
Go Cruising: See islands of monkeys, lemurs, and apes from aboard the guided Primate Expedition Cruise. (CRUISE VIDEOS)
Climb Aboard for a Wild Ride: Hop on one of the camels in our caravan for a trip on a "ship of the desert." (CAMEL VIDEO)
Get Wildly Close: Glass viewing walls get kids face to face with bears, honey badgers, leopards, fosas, coyotes, tigers, and our new Patagonian cavies and giant anteater.
Watch Giant Reptiles Eat: See professional keepers hand-feed a shoreline full of adult American alligators.
Find a Fairly-Odd Favorite: See fosas from the Madagascar movie or honey badgers from the YouTube sensation. (CUSTOM FUN HONEY BADGER VIDEO by RANDALL)
Take in a Show: From a flying hawk to a leaping ocelot, kids discover a world of wildlife in Safari Canyon.
Spot a Snake: Cobras and rattlers slither before their eyes at Jungle Larry & Safari Jane's Snakes Alive!
Feed the Fish: A simple pleasure children and adults both enjoy.
Just Play: Two play areas in the garden allow children to burn off some youthful energy.
Ask Questions: After each presentation and at the Meet the Keeper talks, our staff is happy to satisfy a child's curiosity about everything from apes to zebras!
Naples Zoo at Caribbean Gardens is a 501(c)(3) nonprofit organization cooperating in conservation programs both in and outside the wild for endangered species. The all-day pay-one-price ticket includes admission to both the nationally accredited zoo and historic garden along with all shows, exhibits, and the boat ride. ($19.95 adults age 13+/ $12.95 children 3 to 12, under 3 free. Giraffe feeding and camel rides are available for an additional fee. Children under the age of 16 must be accompanied by an adult at least 18 years of age). Naples Zoo welcomes guests daily from 9:00 to 5:00 with the last ticket sold at 4:00 and is located at 1590 Goodlette-Frank Road across from the Coastland Center mall in the heart of Naples. To learn more, visit http://www.napleszoo.org or call (239) 262-5409 or follow the Zoo online at http://www.twitter.com/NaplesZoo or http://www.facebook.com/napleszoo.