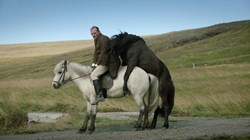 Where Nordic Film 'Winters' in Southern California
Los Angeles, CA (PRWEB) January 05, 2014
The 15th Anniversary Scandinavian Film Festival L.A. (SFFLA) "Surfs the Celluloid Sea" with cinema from across North Atlantic and Baltic waters Jan 18, 19, 25, 26 at the Writers Guild Theater 135 S. Doheny in Beverly Hills. The annual immersion into Nordic films from Denmark, Finland, Iceland, Norway, and Sweden adds "Hanseatic happenings" to the mix with a Norwegian/German co-production, and "Baltic Film Expo@ SFFLA" offering a film from each of the Baltic neighbors-- Latvia, Lithuania, and Estonia.
"Northern European countries have often taken to the seas with a cargo of culture, commerce, and collaboration," says festival founder/director James Koenig. "And we have an exciting program that follows old routes to new worlds and around the North Atlantic/Baltic neighborhood. We are pleased to be 'nosey neighbors' and see what's going on next door!"
The opening night gala Jan 18 precedes the U.S. premiere of Danish Director Ask Hasselbalch's ANTBOY. The upbeat kid-flick for kids of all ages illustrates the inspiration of the super-hero genre and proves that Nordic film isn't all sombre. Opening "day" unreels Icelandic Director Marteinn Thorsson's XL, a pre-rehab political party. Norwegian short THE WALL leads into Kurdish-Norwegian Director Hisham Zaman's BEFORE SNOWFALL, an untraditional road movie about family, love, dignity and honor. Then a short animated documentary IT'S UP TO YOU about growing up with a father in jail leads to the Norwegian Oscar entry I AM YOURS from Iram Haq, a love story about a young Pakistani immigrant to Norway making a life and looking for love. Then it's Icelandic Oscar contender Benedikt Erlingsson OF HORSES AND MEN, a country romance about "the human streak in the horse and the horse in the human."
Jan 19 begins with Finnish director Hanna Hemila's documentary PAAVO, A LIFE IN FIVE COURSES about the man who became butler, chef, and confidant of Ingrid Bergman. Then the Nordic crime film genre gets a decidedly Finnish spin with Director Aku Louhimies' drug thriller 8-BALL. Then it's on to a heartfelt account of the difficulties, delights, and dilemma's of childhood with Finnish Actor/Director/Writer Peter Franzen's autobiographical feature film debut ABOVE DARK WATERS. ( Paradigm signed Franzen to star in a Pierre Morel-directed spy thriller "The Gunman" opposite Sean Penn and Javier Bardem). The Swedish Oscar submission EAT, SLEEP, DIE follows. The film is Director Gabriela Pichler's feature film debut about a young girl who loses her job but struggles to stay in her small village despite government pressure to leave. Next comes Danish Oscar submission THE HUNT from Thomas Vinterberg, in which 40 year old Lucas, played by Mads Mikkelsen, struggles after a tough divorce to maintain a relationship with his son, and fights for his life and dignity against small-town hysteria caused by a random lie. The day concludes with Danish Director Billie August's richly detailed account of a complex, contradictory and ultimately very modern woman-- MARIE KROYER, wife of one of Denmark's greatest painters, whose life changes drastically after her husband's health fails and he becomes mentally unstable and she falls in love with Swedish composer Hugo Alfven. His first film in Danish in 25 years, his "Pelle the Conqueror" won the Oscar, Golden Globe, and Palme D'or in 1987. Billie August, who has made many prominent International films, has been a guest at SFFLA where he mentored young film makers.
On January 25 Week II commences with THE HOUR OF THE LYNX from Danish Director Soren Kragh-Jacobsen with a race against time for two women, a psychiatrist and a priest, who embark on a journey into the mind of a disturbed young killer. MUSHROOMING, a comedic political drama follows from Estonian Director Toomas Hussar. Latvia's Oscar choice MOTHER I LOVE YOU, a striking coming of age drama from Director Janis Nords, continues the day. The Finnish Oscar entry THE DISCIPLE follows from Director Ulrika Bengts. Set on an island in the Baltic Sea a 13 year boy sent to work in a lighthouse wins the keeper's approval but comes into conflict with the man's son, as a dark family secret emerges. Then it's on to a special Swedish award and CALL GIRL. The SWEA (Swedish Women's Educational Association) Film Grant will be presented to model maker Anders Hellstrom preceding CALL GIRL from Director Mikael Marcimain chronicling the story of a young girl recruited into a ruthless world of prostitution. The night ends "up against an unknown deadly force" in the horror genre with the chilling FROST from Icelandic Director Reynir Lyndal.
January 26 RELIANCE from Swedish Director WIlliam Olsson opens the day. In the aftermath of an assault on a 15 year old girl, a family's cohesion is tested. Then it's Lithuanian Oscar entry Giedre Beinoriute's CONVERSATIONS ON SERIOUS TOPICS. The main subjects of the documentary film are children and teenagers with "a special ability to describe the surrounding world" in conversations that are "at times melancholic, at times comical, at times dramatic." Next Danish Director Annette K Olesen takes aim with her political thriller THE SHOOTER the tale of a geophysicist who resorts to extreme methods to save the arctic from the slippery slope of oil extraction. Next it's the German/Norwegian co-production which is Germany's Oscar submission-- ZWEI LEBEN (Two Lives) from Director Georg Maas, which co-stars iconic Norwegian actor/director Liv Ullmann. After the Berlin Wall has fallen, a woman and her daughter living in Norway, are called to testify in a trial and must ultimately decide what carries more weight, the life they are living or the lie it is based on?
Finally the "sweet, charming, funny" closing film of the festival is Lukas Moodysson's WE ARE THE BEST. The film was one of the highlights at the Toronto Film Festival. Set in Stockholm 1982, three 13-year old girls who "act tough" to face the world, form a punk band without having instruments, and defy the popular claim that punk is dead.
Parent organization of SFFLA is The American Scandinavian Foundation of Los Angeles. The festival receives support from the Barbro Osher Pro Suecia Foundation, ELMA (European Languages and Movies in America), SWEA (Swedish Women's Educational Association), as well as assistance from Nordic Consulates and Embassies, Baltic Consulates and Embassies, and national film institutes, as well as individual and corporate donors. Complete schedule and ticket ordering information available at sffla.net.