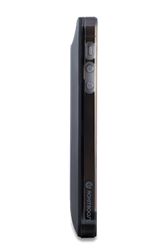 The Excess 2400 battery case for iPhone 5/5S receives great customer feedback.
New York, NY (PRWEB) January 07, 2014
When it comes to consumer electronic accessories, the best confirmation of an accessory's quality or value is through word of mouth. In the mobile device space, tech experts and aficionados carefully examine an accessory, its capabilities, and the ways in which it enhances the mobile devices with which it is compatible, determining whether it lives up to the hype.
Rokit Boost, an innovator and provider of high-end accessories that enhance the user experience of today's leading mobile devices, is proud to announce that its recently launched Excess 2400 has garnered several positive reviews from the online blogging and reviewing community.
The Excess 2400 is a battery case that greatly enhances the battery life of the iPhone 5 or 5s, by up to 120% or, as one reviewer noted, for an additional 14 hours of battery life. The battery case also offers edge-to-edge protection so that one's iPhone remains safe from bumps, scrapes, and other defects.
What's Everyone Saying?
-"I found the Rokit Boost Excess 2400 to work as advertised, and extended my iPhone 5s's battery life enough to use it an entire day without looking for a charging station. It also protected my iPhone well when I dropped it, with no visible resulting damage. If you're looking for a stylish case that both protects your iPhone, and extends its battery life, you would do well to investigate the Rokit Boost Excess 2400."
– Chris Hauk of MacTrast Blog
-"This is an overall great battery case that is at a very good price. [Therefore], I recommend this battery case." – Zachary S., leading mobile consumer accessory reviewer on Amazon
-"This iPhone 5/5s Battery case not only helps your phone to stay protected, but also has the best battery capacity out right now. This is Apple Certified, which is a plus and makes buying with confidence a simple choice." – S. Sturm, user
What's Everyone Raving About?
Many have noted that the Boost Excess 2400 iPhone 5/5s battery case brings much to the table:

Extended iPhone 5/5s battery life for up to 14 hours
Fast charge
Easy to store, handle, and carry around
An iPhone is easily synced to a Mac while it's in the Excess 2400 without any issue
Apple certified
Thick, edge-to-edge protection
User-tested for quality protection against bumps, scrapes, and other defects
Four colors for stylish look
1-year warranty
More information about Rokit Boost and the Excess 2400 and its features can be found at: http://www.rokitboost.com.
MacTrast review page.
Rokit Boost's Excess 2400 page.
Uber Apparatus Blog Features the Excess 2400 iPhone 5 Battery Case
About Rokit Boost
Rokit Boost is a pioneer and provider of high-end, luxury mobile accessories. The company brings great value to mobile lifestyle consumers by offering accessories that markedly improve the user experiences of existing electronic devices. Whether engineering iPhone charger cases, Bluetooth headphones, or wireless Bluetooth speakers/microphones, Rokit Boost's team leverages leading-edge technological improvements to enhance the usability of today's most popular mobile devices.
Rokit Boost's first priority is giving its customers complete satisfaction, with a philosophy of great customer service, great prices, and, above all else, great-quality products.