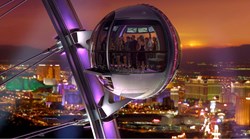 We are excited to be part of a team challenged to build the world's largest observation wheel.
Syracuse, NY (PRWEB) January 05, 2014
Air Innovations, Inc. (AI), the leading provider of custom environmental control systems for clean rooms, medical systems, and other critical environments, today announced it was retained by Leitner Poma for Caesars Entertainment's The Linq project High Roller observation wheel. The company subsequently designed and built the complex HVAC/R systems used to maintain the temperature of the cabins in the High Roller observation wheel.
The High Roller will be the world's largest observation wheel when it opens in 2014. The High Roller is 550 ft. tall and features 28 cabins, which hold 40 guests apiece. It is expected to operate 18 hours per day, 365 days a year.
Air Innovations was tasked to maintain a temperature between 67°F and 73°F (19°C and 23°C) in the glass-encased cabins, even though external daytime temperatures average highs of 104°F (40°C) in July and lows of 39°F (4°C) in December. In addition to achieving consistent temperatures, Air Innovations was challenged to ensure the shape of the air conditioning units conformed to the convex sides of the mechanical compartment beneath the floor of the globe-shaped cabins.
Air Innovations' final solution included 2 custom environmental-control units (ECUs) in each cabin. Each ECU is composed of dual, redundant refrigeration circuits which operate independently, creating failsafe measures should any one of the circuits experience a failure. The net result is 4 independent circuits, which allows for load-shedding on moderate temperature days. In addition, the solution includes a fifth cooling failsafe, in the highly unlikely scenario that all electrical systems in the cabin shut down: a battery-operated ventilation fan provides a level of ambient cooling until that cabin reaches the ground. Each unit can also provide heat, as necessary.
Each of the environmental control systems communicates directly with and can be controlled by the base operation (at the bottom of the wheel).
Michael Wetzel, CEO of Air Innovations said, "We are excited to be part of a team challenged to build the world's largest observation wheel. The technology and packaging challenges involved in this project were an ideal match with Air Innovations' core capabilities."
About Air Innovations
Air Innovations (AI) designs and builds environmental process control systems for applications that can't be addressed with standard HVAC equipment. The company customizes packaged solutions for temperature (with control tolerances as precise as ±0.01°C); humidity (with control tolerances to ±0.5%); filtration (HEPA, ultra low particulate air [ULPA], and molecular); pressure; and direct-expansion, chilled-water or thermoelectric capabilities.
Air Innovations works closely with its clients to tailor products that can either be integrated into their original equipment or be freestanding. Air Innovations serves a broad range of industries including aerospace, defense, semiconductor, R&D, and pharmaceutical. Some recent Air Innovations projects include designing and building air-conditioning for complex structures such as the payloads of NASA's Antares rocket, process control systems for pharmaceutical blister packaging machines, and a cooling system for a silicon pixel sub-detector located inside a linear accelerator at a federal laboratory.
The company also manufactures its own brands of environmental control products that are used by fine wine collectors (Wine Guardian®), supermarket florists (Floratech®), hospitals (IsolationAir®), and homeowners seeking purified room air (HEPAirX®).
All Air Innovations products are designed, tested and manufactured at the company's 40,000 square-foot headquarters in Syracuse, NY. The company has been the recipient of several awards, including Engineer of the Year (HPAC Engineering magazine 2011), and is one of the fastest growing, privately held manufacturers in America (Inc. magazine 2010, 2011).
For more information, visit http://www.airinnovations.com, email info@airinnovations.com, or call toll free 800-825-3268 (direct, 315-452-7400).