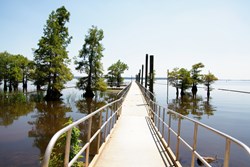 As travelers drive alone the byway, evidence of the economic booms and busts are visible in the historic sites, museums and interpret kiosks
SHREVEPORT-BOSSIER, LA (PRWEB) January 07, 2014
The Shreveport-Bossier Convention and Tourist Bureau has officially launched the Boom or Bust Byway website, http://www.boomorbustbyway.com, that includes descriptions of the parishes and towns along the 130-mile byway that spans from Greenwood to Monroe. The website also includes town spotlights, restaurant information, photos, GPS instructions, a free downloadable app and more.
The Boom or Bust Byway follows Highway 2 and is defined by the Louisiana/Texas border on the west and the loop around the town of Homer to the east. The Byway is comprised of four parishes; Caddo, Bossier, Webster and Claiborne. As travelers drive along the byway, evidence of the economic booms and busts experienced by the resilient people of Northwest Louisiana are visible in the historic sites, museums and interpret kiosks.
"The launch of the website makes the byway more accessible for adventurists to easily access byway information, while exploring and familiarizing themselves with the things they can see and do before they even begin," said Stacy Brown, president of the Shreveport Bossier Convention and Tourist Bureau.
To explore the Boom or Bust Byway, a GPS Ranger® device is available for pick up at select North Louisiana Visitor Centers. The GPS system tracks the user's progress along the byway and becomes active when triggered by specific locations.
The website also features a video sneak peek of what travelers will experience, as well as a printable brochure to take along the drive. For travelers unable to stop at one of the Visitor Centers, the Boom or Bust Byway free app, featuring the GPS Ranger® is available for download on a smart phone by searching "N LA Byways" in the iTunes Store or Google Play.
For more North Louisiana byway information, the Boom or Bust Byway newsletter is available by signing up on the website. To check out a GPS Ranger® or pick up a brochure, visit one of the Louisiana Visitor Centers listed below or visit the Boom or Bust Byway website at http://www.boomorbustbyway.com.
Louisiana Visitor Centers
Louisiana Welcome Center at Greenwood – 9945 I-20 W., Greenwood
Shreveport-Bossier Convention and Tourist Bureau – 629 Spring Street, Shreveport
Lake Claiborne State Park – 225 State Park Road, Homer
Monroe-West Monroe Convention and Visitors Bureau – 601 Constitution Drive, West Monroe
Louisiana Welcome Center at Mound – 836 I-20 W., Tallulah