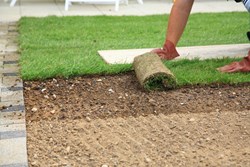 Burbank, CA (PRWEB) January 06, 2014
USA Business Insurance just announced the expansion of customized business insurance packages with a new insurance policy tailored for lawn care service contractors. While these outdoor entrepreneurs are protecting lawns from diseases, moles and grubs, this USA Business Insurance liability policy protects them from the financial damage that claims can do to a business.
Almost anyone who does work for a lawn care company is protected from any liability claim damages. The policy pays out on lawyer fees, witness expenses, court costs and even reimburses the policyholder for any time s/he has to spend in court working on the case.
Examples of potential liability claims or lawsuits that are covered include damage an employee does to a customer's property, any bodily injuries that occur on the contractor's premises or using defective weed killer used on the lawn. The purpose of the liability insurance is to make any claimant whole while protecting the assets of the policyholder's business.
"Nasty moles, grubs and lawn diseases are just part of the exposure lawn care service contractors face. For many people, a lawn is an extension of themselves and they can be quite the perfectionist in making sure it looks good," says USA Business Insurance. "This customized policy is written to reflect that, while providing first-class dependable liability insurance."
Affordably priced and easy to purchase, the USA Business Insurance Plumbing Contractor General Liability Policy provides a degree of comfort to the hard-working lawn care service professionals when it comes to confronting any potential liability issues.
Rock-solid general liability coverage is not the only insurance, USA Business Insurance sells. Lawn care pros can also get a quote on optional liability coverages, workers compensation and commercial auto policies. It's important that all phases of insurance protection are considered to head off any potential financial disaster caused by a claim from a disgruntled customer or employee.
About USA Business Insurance
USA Business Insurance provides a comprehensive suite of liability and other policies specifically tailored for small business insurance portfolios. The company offers great rates, discounts and flexible payment plans.
For more information, visit http://businessinsuranceusa.com/landscaper-business-insurance.