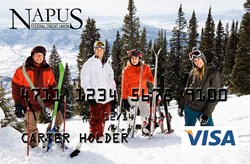 (PRWEB) January 04, 2014
NAPUS Federal Credit Union is offering a lower credit card rate for members who make Visa balance transfers.
Members who transfer balances from their current credit card to a NAPUS FCU Visa credit card from January 1, 2014, through April 30, 2014 will get a lower rate of 4.90% Annual Percentage Rate (APR) for 12 months. The APR will range from 7.99% to 11.90% after the 12 month period depending on the specific card type.
Transferring high-rate bank or store credit cards to a NAPUS FCU card can result in significant cost savings, and there are no fees for balance transfers.
The Credit Union has several Visa card options with no annual fees, no minimum finance charges, and free cash advances that carry the same rate as purchases. Additionally, rewards programs are available on the Platinum and Signature Visa credit cards.
NAPUS FCU's Visa card rates are based on the card type, not on the member's credit. The Signature Visa card has an 8.70% APR and the classic card is only 11.90% APR. NAPUS FCU also offers student credit card options at 7.99% APR. Additionally, all NAPUS FCU Visa cards have non-variable rates, and the rates will never increase based on missed or late payments.
As an added cardholder bonus, members who have an active NAPUS FCU Visa credit card can earn a discounted rate on auto loans. As of December 1, 2013, newly funded auto loans are eligible for discounted rates. Contact the Credit Union for further details.
Members who are interested in applying for a Visa credit card can contact NAPUS FCU at 800-336-0284 or visit http://www.napusfcu.org for more information. Anyone who is not a member can visit http://www.napusfcu.org/join or https://www.napusfcu.org/New-Members-Page.aspx to fill out an application. Consumers may be eligible to join NAPUS FCU through the American Consumer Council (ACC). Please visit the ACC's website at http://www.americanconsumercouncil.org for more information on membership eligibility.
Federally insured by the NCUA.
Equal Housing Lender.