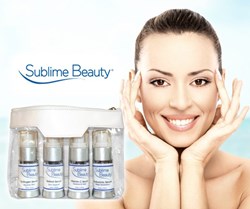 "These serums have monthly users and good reviews, so we decided to offer them together on sale," says Heshelow.
St. Petersburg, FL (PRWEB) January 04, 2014
Cold air, harsh winds, exposure, overheated rooms: all of this can put skin under stress.
The Sublime Beauty® anti-aging serums can come to the rescue. Four popular serums are now available together in a quality vinyl bag, perfect for storage or travel.
"The Collagen, Hyaluronic and Retinol serums all have monthly users and good reviews on Amazon," says Kathy Heshelow, founder of Sublime Beauty®. "The Vitamin C serum is relatively new. We decided upon demand to group them together and offer a nice sale!"
The popular Collagen Peptide serum with Matrixyl® hydrates skin while boosting collagen levels for healther, firmer skin. The Retinol serum is a workhorse of antiaging regiments and should only be used at night. Hyaluronic serum to plump and cushion skin plus a Vitamin C serum rounds out optimal skin care.
"The serums are light and easily absorbed," says Heshelow. "They can be used with day and night creams or other products easily."
Many dermatologists agree that Retinol should be used as a staple for anti-aging for all that it does for skin. The Sublime Beauty® is a non-irritating yet effective 10%.
"We have introduced some specialized anti-aging products, such as our new Ageless line with dermal filler and skin tightener, or our staple the Face Whisperer® Day cream with Argireline® to relax wrinkles," says Heshelow. "These four serums on sale are great staples to be depended on, and work well with our other products - or alone!"
All Sublime Beauty® products are sold on Amazon, with fast shipping (barring weather!) and secure checkout. A new Sublime Beauty® Amazon store will be opening soon as well.