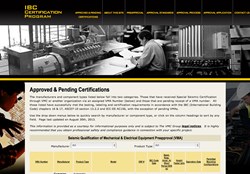 "We developed a site to provide a single place where engineers could quickly specify products they know have received Special Seismic Certification."
New York, NY (PRWEB) January 05, 2014
The VMC Group, a world leader in the design and manufacture of vibration isolation and seismic energy management technologies, is pleased to announce their intent to participate in the 2014 AHR Expo in New York City, January 21 – 23 at the Jacob Javits Center. A highlighted feature at this year's 10x30' Booth #1830 will be ongoing demonstrations of the company's new website ibcapproval.com, an informative resource for design engineers who specify IBC certified products.
"This important new website continues a commitment our firm made more than a decade ago when we became the first organization to receive independent recognition as a Certified Seismic Qualification Agency," said John Wilson Jr., Chief Executive Officer of The VMC Group. "We developed a site to provide a single place where engineers could quickly specify products they know have received Special Seismic Certification."
The website has convenient dropdown menus that allow engineers to sort by company name or product type. In addition, engineers can also sort by 10 other product information fields with a single click including the product's OSP Number (if applicable), IBC Code Date, Permitted Mounting Configurations, Model and Height Factors.
IBCapproval.com also offers manufacturers interested in obtaining Special Seismic Certification everything they need to know about The VMC Group's engineer services division VMA certification process.
"Manufacturers can download an informative Pre-Approval Guide and Approval Application right from our site," said Wilson. "We also feature our company's exclusive 10-Stage IBC/OSHPD Signature Implementation Methodology™ on the site, which details the steps required to achieve VMA Approval."
In the near future, The VMC Group will launch a new Approval Standards section on ibcapproval.com that will include one of the most comprehensive seismic certification approval documents in the industry for non-structural building components.
"We're excited to showcase an extensive and growing 'who's-who' list of top manufacturers with certified products on this site," said Wilson. "Our goal is to become the go-to resource for engineers seeking seismic certified products and manufacturers interested in having their products added to our expanding VMA certified list."
In addition to website demonstrations, The VMC Group will exhibit a wide selection of their vibration isolation products and seismic restraint components.
Located in Bloomingdale, NJ, The VMC Group is comprised of four leading global brands that together represent the state-of-the-art in shock, vibration, seismic and noise control products. The VMC Group works closely with customers to deliver the product and engineering solutions needed across a broad range of industries including HVAC, commercial construction, architecture, military, defense, aerospace, marine, vehicular, electronics and power generation. For more information about The VMC Group products, please visit http://www.thevmcgroup.com or call 800-569-8423.
To learn more about IBCapproval.com, please visit The VMC Group's booth number 1830 at the upcoming AHR expo.