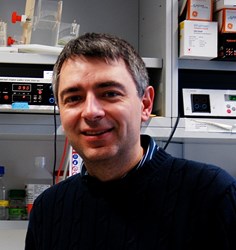 "I would like to thank the patients who had the courage to fund a relatively risky research endeavor." - Dr. Robert Kralovics
Chicago, IL (PRWEB) January 30, 2014
In December 2013, Dr. Robert Kralovics sat down to discuss the discovery of a genetic mutation that explains the majority of ET and MF for non-JAK and MPL patients. Click here to watch the video.
During the late breaking abstract session at the 2013 American Society of Hematology Annual Meeting, Dr. Kralovics (MPN Research Foundation grantee from Vienna, Austria) reported that Calreticulin, or CalR, is mutated in the majority of ET and MF patients without a JAK/MPL mutation. These CalR mutations were independently identified and presented at the meeting by Dr. Tony Green from the U.K.
Although JAK2 mutations were discovered 7 years ago, and MPL mutations soon thereafter, the genetic changes associated with JAK2/MPL negative cases of the MPNs have remained elusive. While it remains unclear how the mutations lead to MPNs, Kralovics and colleagues showed that a mutant form of CalR could impact the STAT5 pathway, perhaps similar to the behavior of the activated JAK2 and MPL mutations in other MPN cases. There are a few differences in the studies that will likely be resolved in the coming year. For now, researchers are investigating how the mutations drive the disease and ways to inhibit the activity of the mutant protein.
Dr. Kralovics work was funded in part by the MPN Research Foundation as part of their Established Investigator grant program. It is indicative of the kinds of projects the Foundation funds: high risk/ high reward research focused on finding a cure for polycythemia vera, essential thrombocythemia and myelofibrosis, collectively known as the myeloproliferative neoplasms. The Foundation is proud to have funded Dr. Kralovics' research and are encouraged by this greater understanding of MPNs.