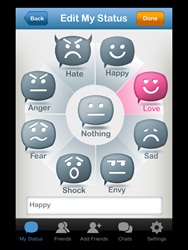 I wanted to create a social tool that anyone could relate to, and easily use...it's human interaction at its most fundamental level.
Austin, Tx (PRWEB) January 27, 2014
MeeYu, an app created by independent developer Jason Cooper, officially launched in the iTunes store today. MeeYu, which has been dubbed the "Social Mood Ring", enables users to connect and interact with friends via moods that they personally relate to, and with the convenience of Facebook integration, sharing emotions with friends is a simple, streamlined .
"MeeYu's foundation in 'mood' states means people can connect on a more personal level," says Jason Cooper, founder and creator of MeeYu.
Simple yet practical, MeeYu allows users to choose from a set of 8 colored "emoticons" along with their own corresponding thoughts and ponderings. The use of the eye-catching emoticons, as well as MeeYu's chat feature, will set it apart from other popular micro-blogging apps. Similarly to Twitter, MeeYu establishes tight parameters for defining user content, so it is easily digested in today's on-the-go society.
"I wanted to create a social tool that anyone could relate to, and easily use...it's human interaction at its most fundamental level," Cooper explains.
Cooper was inspired to create the app for his autistic son who is autistic. Navigating personal emotions can be challenging for Cooper's child. MeeYu helps people visually identify with their own feelings and emotions, allowing users to more accurately articulate them. Cooper's brother-in-law, who runs a mentor program in the Navy, (helping new enlistees transition to military life) plans to use the app to track the mental states of his mentorees. The military enlistees have a difficult time adapting, initially, so there is a higher rates of depression and anger present. He would have them check in once a day to monitor their mental state.
"The nature of the MeeYu app is rooted in fundamental human experience, so its applications can be purely for entertainment, or real-world application - it has that level of broad appeal," says Cooper.
MeeYu is available now in the iTunes store.
About:
Based in Austin, Tx, Jason Cooper is an independent web designer with an interest in mobile development. With his strong background in visual design, branding, and interface design, he decided to create an easy-to-use application that allowed people to communicate in an innovative way – by not just sharing content, but sharing emotional experiences. Initially, he intended for his first application, Meeyu, to be strictly for the value of entertainment, but soon realized it had many practical attributes as well. His idea for the app arose a few years ago when he had an experience with my wife, when he chose to tease her for good fun, but that was not the day for it. Wishing that he could have forseen her mood, he decided to take a chance at developing an app for this very purpose.