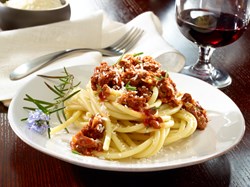 New York, NY (PRWEB) January 04, 2014
January 4th is National Spaghetti Day! Spaghetti is a thin, round-shaped pasta from Italy that the rest of the world can't seem to get enough of. The word spaghetti is actually the plural of spaghetto, which comes from the Italian word for "thin string."
De Cecco is Italy's premium pasta, chosen by renowned chefs because they know the secret to making unsurpassed pasta – the De Cecco difference!
De Cecco is made in the mountains of Italy, using only the heart of durum wheat to produce the highest quality, premium semolina. This is then mixed with cool, natural waters from De Cecco's own mountain spring, drawing the semolina dough through bronze dies and drying the pasta very slowly at a low temperature. De Cecco uses a proprietary process to make its 160 pasta varieties, including whole wheat, organic, veggie and egg pasta.
A few tidbits about spaghetti:
Did you know that in the year 2000, 1.3 million pounds of spaghetti were sold in American grocery stores? If all of those packages were lined up, they would circle the Earth nine times!
It is widely accepted that pasta was invented in Rome. However, the oldest pasta or noodle was found in China, which was around 4000 years old. These lead historians to be more specific on what constitutes pasta. Although pasta can be in noodle form, noodles are not always pasta. This would mean that the only noodle that is considered as pasta is the spaghetti.
Today we associate pasta with the Italians, who have revolutionized the dish and invented a wide variety of pasta shapes. These include farfalle, conchiglie, rotini, penne, tortellini, and, of course, spaghetti.
Spaghetti's classic companion is tomato sauce. These two came together after Spanish explorers brought tomatoes back from South America. Though spaghetti is traditionally served with tomato sauce and Parmesan cheese, you can add almost any ingredient to pasta including meat, garlic, oil, and pepper for extra flavor.
Spaghetti dishes don't need to be fancy. In fact, they're a great way to clean out the fridge. Combine the noodles with a bit of leftover meat, some frozen veggies and a touch of cream or olive oil for the perfect mid-week meal.
Over the years De Cecco has been the recipient of numerous awards and accolades, and was recently inducted to the Italian Trade Commission's Hall of Fame. Founded in 1886 by the De Cecco brothers in the Abruzzo region of central Italy, today De Cecco exports to more than 87 countries and is the world's third largest manufacturer of pasta. Their product line includes premium pasta, sauces, and extra virgin olive oil.
To help you celebrate National Spaghetti Day, De Cecco offers up this mouthwatering recipe that is quick and easy to make, and a new twist on the classic spaghetti and meat balls that the entire family is sure to enjoy. You can also substitute De Cecco's bucatini in this recipe. Bucatini is a thick spaghetti-like pasta with a hole running through the center, allowing the pasta to better retain the sauce. Visit http://www.dececcousa.com for a wide selection of recipes and product information.
Spaghetti (or Bucatini) with Herbed Meat Sauce
Prep time: 12 minutes
Total Time: 1 hour and 10 minutes
Serves 6
Ingredients:
1 pound De Cecco Spaghetti or Bucatini
3 tablespoons De Cecco Extra Virgin Olive Oil 100% Italian Olives, divided
1 pound lean ground beef or ground lamb
4 garlic cloves, minced
3 bay leaves
1 tablespoon chopped fresh rosemary, divided
1/2 cup dry red wine
1 (28-ounce) can tomato puree
Salt and pepper to taste
1/2 cup grated Pecorino cheese or Parmesan cheese
Directions:
1. Heat 1 tablespoon oil in a large Dutch oven over medium-high heat. Add beef, garlic, bay leaves and 2 teaspoons rosemary; cook 5 minutes or until browned, breaking up larger pieces while cooking. Add wine; cook 5 minutes or until wine evaporates. Stir in tomato puree. Reduce heat to medium-low; cover and simmer 1 hour or until thickened.
2. Cook pasta according to package directions; drain.
3. Remove meat sauce from heat. Discard bay leaves. Stir in remaining 2 tablespoons oil and 1 teaspoon rosemary. Season to taste with salt and pepper. Serve meat sauce over cooked pasta. Sprinkle with cheese.
###