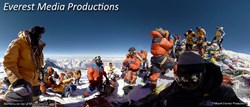 Olean, NY (PRWEB) January 05, 2014
Nepal, Mount Everest – Under the guidance of living legend Apa Sherpa, 360Heros™ officially made it to the top of the world in June, 2013 in a collaborative effort with HP®, Intel®, Adobe®, ATI®, NLT, Steadicam and DJI® to tell the story of his dedication to the Sherpa community, school, and foundation at Mount Everest in 360 video, 3D, and theatrical.
The documentary of the life of Apa Sherpa by Everest Media Productions is currently moving into the post-production stages, but 360Heros™ is excited to offer a sneak-peek into the life of the famous mountaineer.
To this date, Apa Sherpa is the only man in history to reach the top of the world 21 times. As the Guinness World record holder for the most summits of Everest, Apa is widely recognized to be one of the greatest living mountaineers.
Ironically, a Mount Everest summit was never a goal for Apa. At 12 years of age, he first began working as an expedition porter to earn money following the untimely death of his father. Leaders and trekkers alike immediately noticed the child who, despite his exceedingly small stature, carried loads greater than his own weight with strength, quickness and a wide smile.
Coming from Thame, the hometown of Everest legend Tenzing Norgay, it was almost inevitable that Apa would become a high altitude Sherpa on Everest. He began carrying loads on Everest in 1988, but it wasn't until May 10, 1990, that he reached the summit for the first time along with Rob Hall, Gary Ball, and Peter Hillary.
Since that memorable day, Apa has participated in 22 Everest expeditions and reached the summit 21 times.
Adhering to a simple philosophy that "Everest will always be there" and it is more important to keep all team members and Sherpas safe, Apa has led his teams to amazing success. He is the recipient of three medals of commendation from the royal family of Nepal, and has been recognized by mountaineering associations around the world.
If Apa could have planned his life, differently, however, he says that he would gladly have given up the world records for a good education and a career as a medical doctor. That is why education for his own children and for the other children from Thame is his top priority.
Residing in Draper, UT, Apa will send his three children to college and fulfill his dream of giving them opportunities he never had. He will also continue to pass on his life lessons learned on Everest to other Sherpas and climbers, as well as raise awareness about the humanitarian and environmental needs of the Himalaya region.
Michael J. Kintner, founder of 360Heros™, acted as the lead technology consultant for Everest Media Productions out of Las Vegas, Nevada.