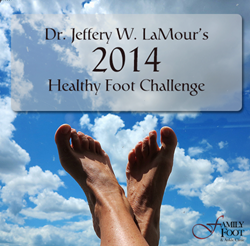 We're dedicating the entire month of January to discussing and addressing foot care issues. -Dr. Jeffery W. LaMour
Austin, Texas (PRWEB) January 06, 2014
Podiatrist Dr. Jeffery W. LaMour is encouraging all senior citizens and their caregivers to take part in the 2014 Healthy Foot Challenge. The challenge is aimed at raising awareness about the increasing need to practice proper foot care as a person ages. Complications from vascular disease that affect the feet are more common among the elderly, but preventative care outlined in the challenge can greatly reduce the problems associated with such diseases.
Dr. Jeffery W. LaMour noted that January was the ideal time to launch the Healthy Foot Challenge. "At the New Year people are actively evaluating how they can create healthier habits. We wanted to use that opportunity to put focus on the importance of foot care for our elderly population. We're dedicating the entire month of January to discussing and addressing these issues."
Each week in January seniors and their caregivers can access a new checklist focused on foot care by visiting Dr. LaMour's blog. The checklists will provide tips and resources that assist the elderly in creating healthy habits that benefit the feet.
The first introductory checklist on basic daily foot care was released on January 2nd with four additional checklists scheduled for release soon after.

January 8th Checklist - Healthy Foot Diet
January 15th Checklist - Exercise
January 22nd Checklist - Wardrobe and Shoes
January 29th Checklist - Foot Maintenance
The checklists can be downloaded or printed so that the resources are easily accessible. By the end of the Healthy Foot Challenge senior citizens and their caregivers will have a complete packet to assist them in improving foot care during 2014.
To learn more about Dr. LaMour and the services available at his clinic, please visit: http://www.drjefflamour.com
About Dr. LaMour's Family Foot & Ankle Clinic
Austin podiatrist Dr. Jeffery W. LaMour has been helping patients of all ages overcome a wide variety of foot ailments since 1997. At Dr. LaMour's Family Foot & Ankle Clinic he and his team of medical professionals use cutting-edge technology and equipment to perform both surgical and non-surgical procedures to treat sports injuries, ingrown toenails, fungus, heel pain, ankle pain, warts, fractures, arthritis and a variety of other ailments.