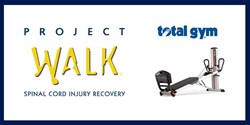 Total Gym is proud to have been selected by Project Walk as a critical tool in the amazing work they do for their clients.
(PRWEB) January 06, 2014
SCI Business Solutions Inc., the exclusive operator and franchisor of Project Walk® Spinal Cord Injury Recovery Center is excited to partner with Total Gym, the industry leader in functional movement and bodyweight training.
Through this strategic relationship, clients of Project Walk franchises will have access to the latest offerings from Total Gym including the motorized PowerTower; a commercially designed Total Gym that allows for incremental load changes to occur while clients are on the unit, making the workout highly dynamic and suitable for rehabilitation.
Since Total Gym's inception in 1974, the San Diego-based company has expanded their reach to over 14,000 physical therapy clinics, selling over four million units in 23 countries. The Total Gym brand has been a fixture in Project Walk locations for over a decade; providing clients with consistent and unique training techniques for a wide array of special populations.
Based on The Dardzinski Method, Project Walk has established itself as a global leader in spinal cord injury recovery through its unique approach to improving function below the level of injury. The success of the Project Walk brand is based on a focus to maintain its reputation as the industry leader in activity-based recovery by using state-of-the-art equipment, research and methodology development.
"Total Gym is proud to have been selected by Project Walk as a critical tool in the amazing work they do for their clients," says Jesse Campanaro, President of Total Gym. "It aligns with our passion for helping people get healthier no matter where they are starting."
In addition to Total Gym equipment, the partnership further supports a collaboration to improve research in the area of spinal cord injuries and partial body weight exercises. Such collaboration provides new and improved training methods to those attending select Project Walk locations.
"We selected Total Gym because they can provide a safe and stable platform for us to perform functional movement with our clients," says Brian Malkinson, Director of Operations for SCI Business Solutions Inc. Malkinson adds, "Total Gym is undoubtedly an industry leader in functional training which easily falls in line with our methodology. The partnership is very exciting."
There are over 12,000 new spinal cord injuries each year and Project Walk Spinal Cord Injury Recovery Center provides an improved quality of life for people with SCI through education, training and research and development and is comprised of a global network of franchised and licensed locations encompassing both for and nonprofit businesses. Headquartered in Carlsbad, California, Project Walk has locations throughout the United States and worldwide, serving thousands of clients in over 30 countries, on 6 continents.