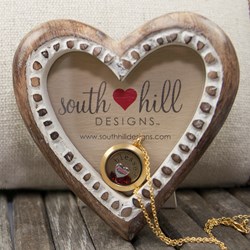 CEO Brian Palmer says: "In today's economy many companies are struggling to maintain sales, let alone grow. South Hill has proved that incredible growth is still possible."
(PRWEB) January 06, 2014
South Hill, the home-party company known for personalized jewelry, has ended 2013 with 5,600% year over year growth. The company has also achieved 3,650% monthly growth in new Artists (independent distributors).
CEO Brian Palmer says: "In today's economy many companies are struggling to maintain sales, let alone grow. South Hill has proved that incredible growth is still possible."
Palmer attributes the company's first-year triumph to several factors coming together to create what he calls "a perfect storm of success."
First and foremost, he gives credit to the company's independent distributors, known as Artists. "Our Artists are the most passionate, hardworking and enthusiastic people I have known," he says. "We're enormously proud of what they've achieved in this first full year of operations."
The Artists are rewarded by a compensation plan that distinguishes South Hill from just about every other home-party company. The key to its power is motivating everyone in an Artist's organization—not just the "frontline." Features include 10% commissions paid two levels deep, and executive bonuses that can extend to infinite depth. Both of these are almost unheard of in the home-party industry.
Hostesses are taken care of too. A unique "cash and carry" system means that when Artists purchase products in advance of a South Hill Social, the Hostess gets the benefit of any sales that occur.
Product innovation is the driving force for South Hill. The most spectacular example in 2013 has been the introduction of the company's patent-pending locket bracelet. Selling at ten times the rate of any other locket, the first delivery of this breakthrough product sold out in three days.
Other winning innovations have included an elegant diamond-shaped locket, and a series of wraps featuring fine leather with a metallic sheen. For 2014, South Hill is preparing to add further accessories, including a range of earrings, to its flagship product line.
"Creating fabulous and original products is our passion," says COO and cofounder Joe Ochoa. "Customers are voting with their purchases with every new product we launch. What's clear is that today's woman loves to personalize her wardrobe in every possible way—especially with jewelry that tells her unique story."
As well as giving women new ways to express themselves with jewelry, South Hill offers them the possibility of creating additional income, or even a whole new career.
"Times are hard for many people," says Director Amy Faircloth. "South Hill stands as a beacon of hope. After a thrilling first year, our Artists from coast to coast are looking forward to 2014 with total optimism."