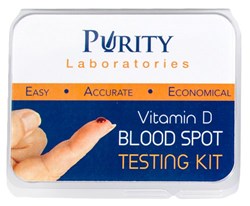 The negative effects that low vitamin D can have on the body makes knowing a person's vitamin D status more important than ever.
(PRWEB) January 06, 2014
A December 2013 study conducted by the University of Kentucky links a diet low in vitamin D with damage to the brain.
The study, which was published in Free Radical Biology and Medicine looked at middle-aged mice that were given a diet low in vitamin D. Over the course of several months these mice developed free radical damage to the brain. They also experienced damage to various brain proteins. Finally they showed a decrease in their learning and memory as shown through cognitive performance tests.
This is just one of many studies that have shown how low serum vitamin D affects the body. Previous studies have connected low vitamin D to increased risk for many diseases including Alzheimer's disease, certain types of cancers, cardiovascular disease and many others.
The negative effects that low vitamin D can have on the body makes knowing a person's vitamin D status more important than ever. Research suggests that vitamin D levels should be between 50-80 ng/mL for optimal overall health, but nearly half of the U.S. population has serum vitamin D levels that are considered insufficient.
Purity Labs will be launching a new Vitamin D Blood Spot Testing Kit this year, making it easier and more efficient to find out a person's vitamin D levels. The test can be done from home and will contain all the tools necessary to perform the test.
It includes instructions on how to take the test, two lancets, a spot saver card, an alcohol prep pad, a surgical sponge and a latex free bandage. A requisition form and postage pre-paid return envelope are also included in the kit. When the test is complete it is placed into the return envelope along with the test requisition form and mailed back to Purity.
This is a fantastic option for patients who are unable to receive testing in a doctor's office or laboratory, including children, the elderly and those that are homebound.
More information including pricing and how to purchase a kit will be available soon.
More About Purity
Purity Laboratories Inc. is an independent lab that focuses on both clinical and environmental testing. Purity has more than 45 years of experience in analytical testing and opened a clinical laboratory division in 2013. Purity's environmental laboratory division offers analytical testing of food, water and environmental products. It also has expanded capabilities for nutraceutical testing to address new Food and Drug Administration regulations for the nutritional supplement industry. Purity's clinical division provides doctors and patients the ability to order Vitamin D dry blood spot testing. It plans to add multiple other clinical dry spot tests in 2014, particularly specialized tests for those with sensitivities or chronic illnesses.
Contact:
Kulani Mahikoa
V.P. Marketing
Purity Laboratories, Inc.
Telephone: 503-694-1600