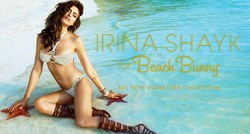 Los Angeles, CA (PRWEB) January 03, 2014
Beach Bunny spills Irina Shayk's beauty secrets for looking like a total beach babe. While shooting for the brand in Belize, the Sports Illustrated cover model dons her Irina Shayk for Beach Bunny collection as she shares her ultimate beauty tips and what she always carries with her in her beach bag.
The 27 year old Russian bombshell stays looking young by meticulously applying sunscreen and always having a hat and sunglasses handy, but also makes sure to leave room in her bag for a mask, snorkel, and her favorite Beach Bunny swimsuit just in case she has some free time. Shayk is no stranger to long days spent shooting in the sun, and proves if you want to look as good as she does on the beach, you have to take care of yourself.
To see all of Irina's beach beauty tips and favorite products go to:The Beach Bag: Irina Shayk's Must-Haves.
Irina Shayk for Beach Bunny is now available on beachbunnyswimwear.com and Beach Bunny's own retail stores in Los Angeles, Newport Beach, Scottsdale and South Beach in addition to major department stores and specialty boutiques worldwide.
See more on Beach Bunny's collection with Irina Shayk on:
Facebook.com/BeachBunnySwimwear
Instagram.com/BeachBunnySwimwear
Twitter.com/BeachBunnySwim
@BeachBunnySwim spills @theirishayk 's beach beauty secrets http://bit.ly/1a70lqW
About Beach Bunny
Since its launch in 2004, Beach Bunny has become an international sensation with its definitive luxury swimwear, cover-ups, ready-to-wear and accessories that capture the California lifestyle and appeals to glamorous girls across the globe who revel in turning heads. Designed by Angela Chittenden, the label is sold in its own branded stores throughout California, Arizona and Miami in addition to specialty shops and department stores across the US and abroad. For more information about Beach Bunny Swimwear, visit the website at http://www.beachbunnyswimwear.com.