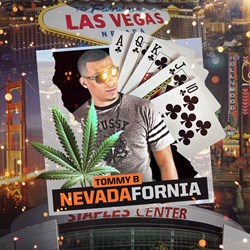 Los Angeles, CA (PRWEB) January 07, 2014
Coast 2 Coast Mixtapes announces the release of the "Nevadafornia" Music Video by Tommy B. The project, presented by Coast 2 Coast Video Distribution, is now available for view on YouTube.
Tommy is a rapper born in the San Fernando Valley California about 25 miles north of Los Angeles but raised in Las Vegas, Nevada. Tommy keeps it one hundred percent real. With no tats, gold teeth, or unnecessary bling; Tommy makes his statements with his words and talent. He was taught that the true hustle is when he uses his brain over physical force for the mind is the ultimate weapon. Tommy found that the people who don't show off or over talk but just live it, are the ones who really find success and hold the power. Don't let this fun loving, video game playing MC fool you, he can write his ass off and is a natural performer on stage. With the pen and pad as his weapon, there is no stopping him. Tommy is about to take the Hip Hop world by storm.
Part of the "The Diamond Cartel" movement, a bunch of multi-talented artists who put in work every day in the Lab, Tommy has a strong team supporting him. The Diamond Cartel's first official video, titled "Swear 2 Gawd" from the mixtape called "MADE NIGGAS THE TRILOGY", comes out in January. So get ready, Muzik Mafia Entertainment and Life of Luxury Records will be a house hold name in no time.
"NEVADAFORNIA" is Tommy B's third video off his mixtape release "Nevadafornia". The video features both Vegas and California in a classic black and white look. Tommy B keeps it fresh presenting that Hip Hop lifestyle with great visuals to match the West Coast laid back vibe of his music. For more information on Tommy B check him out on twitter at @TommySBJr.
About Coast 2 Coast Mixtapes
Coast 2 Coast Mixtapes are the most widely distributed mixtapes in the world, with over 100 million downloads/plays generated by over 200 volumes officially hosted by major artists. Coast 2 Coast has a solid reach in the new music industry with a digital magazine, DJ coalition, industry tips blog, yearly convention, and more. Coast 2 Coast Mixtapes represents a unique opportunity for artists of all urban genres, from major to indie. For more information, visit http://www.coast2coastmixtapes.com.