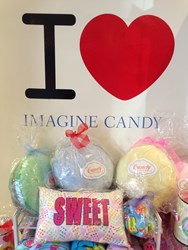 Chino, CA (PRWEB) January 30, 2014
Those that are a fan of both cute items as well as delightfully pretty dessert treats would be excited about the existence of such a thing called CandyCloud macaron pillows. A decorative throw pillow that resembles the popular French cookie, CandyCloud pillows have easily captured the hearts of macaron lovers everywhere.
CandyCloud launched their macaron pillows in the summer of 2013. Since their release, the pillows have only been limited to being purchased through the main online store (http://www.candy-cloud.com) and on Amazon.
However, just recently CandyCloud pillows are now available at a specialty candy store in New York called Imagine Candy.
A fairly new store that opened just two years ago, Imagine Candy has become a favorite among its community in Scarsdale, New York. The candy boutique caters to every preference and has just about everything from traditional, nut/gluten/dairy free options to vegan, raw and organic goodies. Imagine Candy also sells specialty items, such as plush toys and accessories, with CandyCloud's macaron pillows specifically being one of them. The pillows come in a variety of five colors, all of which are displayed on Imagine Candy's storefront, wrapped beautifully in cellophane and tied with a ribbon.
Imagine Candy owner, Bill Vogel, says of the pillows, "The size and color is powerful. Everyone is drawn to them."
CandyCloud was founded in Southern California by a group of young individuals that have a passion for interior design and scrumptious food. Their Macaronian™ macaron pillows are the first product that they have released since their launch in 2013. Interested in having these pillows available at your store? Visit their website at http://www.candy-cloud.com for more information.
For more information on Imagine Candy, visit their website at http://www.imaginecandy.com.