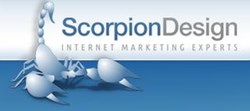 Valencia, CA (PRWEB) January 03, 2014
President & CEO of Scorpion Design, LLC Rustin Kretz was recently announced as one of the winners in the Annual 2013 CEO World Awards in the Mentor category. This award is given out to those CEOs who demonstrate the best in leadership, innovation, organization, customer satisfaction, and more. Organizations from around the world are eligible to submit nominations and scores are averaged from more than 30 judges who come from a variety of different industries. In 2013, more than 200 CEOs participated in the awards.
"Rustin is a mentor in the truest sense of the word," said Scorpion's Chief Legal Officer Michael Sauer. "He is always willing to tackle a project—both to ensure that it succeeds and to ensure that his employees learn the best possible way to complete it. He is always willing to help and makes himself equally available to all employees, from executives to new hires. There is no one who works as hard in the company as Rustin, and it is clear by his skill set, determination, and drive that he is more than just a President in title only."
This year, Rustin was honored as mentor for his ability to inspire his employees and to drive them to even greater heights. As Scorpion's Chief Operating Officer Eric Reuveni says, "No task is ever too big, and nothing is impossible. That is the attitude he brings to the table, and it is infectious." This attitude of never-say-never has led to Scorpion Design earning several awards of its own since being incorporated in 2003.
For example, Scorpion has earned a spot on the Inc. 500 | 5000 list for three consecutive years—recognizing it as one of the continually fastest growing companies in the nation. Scorpion has also been honored on a national and international level for its work in the Internet marketing industry. Awards for the company are numerous and include the 2013 WebAward for Outstanding Website, the 19th Annual Communicator Award of Distinction, as well as the 2013 Internet Advertising Competition Award for Best Marketing Website.
Beyond the awards, however, what truly sets Rustin and Scorpion apart are their commitment to the satisfaction of their customers, their belief in never settling for status quo, and their desire to be the best. As their website claims, "Scorpions are loyal, passionate, resourceful, determined, and dynamic." This is an attitude that begins with Rustin and has made its way through every single employee at the company.
"Having worked with Rustin for over 10 years now, I am inspired on a daily basis by his leadership and ability," said Scorpion's Senior Vice President of Sales Peter C. Webb. "He has his finger on the pulse of each area in the company and has an uncanny ability to encourage and pinpoint where his attention and assistance is needed most. By doing this, he empowers and supports every single team member."
Scorpion Design, LLC is a leading Internet marketing company based in Southern California. Scorpion works with clients across the nation to help gain more jobs and more revenue through smart Internet marketing strategies. They are known for award-winning design work, cutting-edge technology, and marketing experts who are both creative and effective. To learn more, visit them online at http://www.scorpiondesign.com.