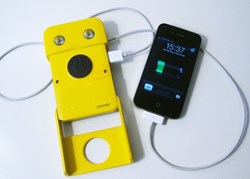 The best solar smartphone charger available
Austin, Texas (PRWEB) January 04, 2014
Through the innovative fundraising concept developed by this partnership with the Grid Earth Project, Rotary Clubs around the world can quickly and easily offer the popular WakaWaka Power on their website, generating donations for each unit sold , with all inventory, shipping, and back-end accounting managed by OGS. The Rotary Club can use the funds raised to finance their own community service while also supporting the work of the Grid Earth Project delivering WakaWaka Lights to people living at the bottom of the pyramid. The Grid Earth Project is a US charity, founded by Rotarians, dedicated to saving lives, improving health, promoting education and ending energy poverty by providing solar powered LED lighting to those in need.
Off-Grid Solutions (OGS), the Dutch business behind the WakaWaka product line, is focused on combating energy poverty using solar power. The newest product from OGS, the WakaWaka Power, is a light and portable solar charger for smartphones and tablets. This makes it an attractive product for everyone; including busy business people and outdoor enthusiasts in need of portable smartphone charging, and those suffering from power outages due to grid blackouts, emergencies, and natural disasters.
This new fundraising model is interesting not only because of its simplicity and the "Buy One, Give One concept, but also because of the fact that the entire order process is fulfilled by WakaWaka. There is no investment, inventory or delivery required. The only action a participating Rotary Club is responsible for is placing a fundraising widget on their website, telling their members about the campaign and sharing it with others through social media. Every month, the Rotary Club will receive an order statement accompanied by a donation check, simultaneously providing a solar light for a family in need. In addition, they will be notified about their impact on projects being carried out in developing countries.
For more information about this revolutionary fund raising method for your Rotary Club contact: info(at)gridearth(dot)org