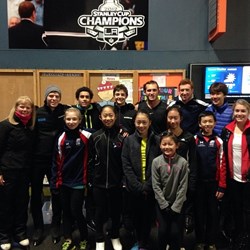 Riverside, CA (PRWEB) January 04, 2014
This is an exceptionally exciting time for winter sports enthusiasts and Olympic hopefuls. Upcoming is the 2014 qualifying competition season with the 2014 United States Figure Skating Championships in Boston. The event will be held in Boston, Massachusetts from January 5–12, 2014. Medals will be awarded in the disciplines of men's singles, ladies' singles, pair skating, and ice dancing at the senior, junior, novice, intermediate and juvenile levels. The results will be part of the U.S. selection criteria for the 2014 Winter Olympics, 2014 World Championships, 2014 World Junior Championships, and 2014 Four Continents Championships.
LA Kings Icetown Riverside is proud to have many of its elite skaters participating in these figure skating championships with Icetown's very own premier coach Tammy Gambill having 11 of her students competing in Boston. Skaters Richard Dornbush, Sean Rabbitt. Philip Warren, Leah Keiser, Vanessa Lam, Karen Chen, Amy Lin, Tyler Pierce, Elizabeth Nguyen, Jessica Cai and Jeffery Chen, all coached by Icetown's Tammy Gambill, will be competing in Boston at the U.S. Figure Skating Championships. In addition to the 2014 U.S. Figure Skating Championships Icetown has figure skater Hanne Landro competing at the Norwegian Nationals in Norway beginning January 11, 2014.
This is an exciting time for Icetown and figure skating with the Sochi Olympics around the corner. For all figure skating enthusiasts and future Olympic hopefuls and Ice Town offers one time free introductory lessons for boys and girls ages 3 and over. This is a perfect opportunity to learn the basics of skating. First time skaters are encourage to take this free class. Introductory lessons are offered Wednesdays 6:30pm - 7:00pm and Saturdays 11:50am - 12:20pm. Contact Figure Skating Directors Monica Viola and Melissa Knutson for more information.