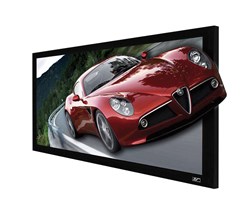 Las Vegas (PRWEB) January 07, 2014
Elite Prime Vision (EPV), a division of Elite Screens, Inc., announces the shipping of its highly anticipated DarkStar ambient light rejecting projection screen. Available now through EPV's line of authorized distributors, the DarkStar's starting MSRP is $3,100.00USD, with prices varying depending on size and aspect ratio.
EPV is the dedicated custom install projection screen line from Elite Screens. The DarkStar screen is the flagship product of the Elite Prime Vision line. It features ambient light rejecting, retro-reflective material that actively reflects a projected image while preventing indirect or ambient light from "washing out" the picture.
"The DarkStar is a breakthrough screen for Elite Prime Vision and Elite," said Jaime Abrego, product manager at Elite Prime Vision and Elite Screens. "As the projection screen market advances with better materials and surfaces, we wanted to bring in products that reflect these technology innovations. DarkStar is a premium screen with an ambient light rejecting textile that will be replicated to other screens in the Elite line-up."
DarkStar
The EPV DarkStar projection screen is professionally engineered to incorporate optical filters on the retro-reflective material. With the superb balance of gain, contrast and viewing angle, the DarkStar brings high levels of performance required by the custom install market. The DarkStar screen will come in a variety of sizes, ranging from 110-inches to 123-inches in a 16:9 aspect ratio and a 2.4:1 aspect ratio with sizes from 140-inches to 157-inches.
With a 1.4 gain, the DarkStar offers stunning brightness with color neutrality while maintaining incredible contrast for enhanced black levels. Direct light is reflected back towards the video source. This combination creates an image where the black-level details are seen without compromising color balance. The DarkStar's durable surface coating diffuses lights to eliminate hot-spotting, glare and other visual artifacts.
Pricing, Availability, Warranty
The EPV DarkStar projection screen has a starting price of $3,100.00USD. Prices will vary depending on size and aspect ratio. DarkStar comes with Elite's limited lifetime manufacturer's warranty. The DarkStar ALR screen is available through Elite Prime Vision's authorized distributors.
About Elite Prime Vision
Elite Prime Vision, EPV, is a division of Elite Screens and is dedicated to providing superior products for custom install market. The product line features a broad array of electric and fixed-frame projection screens with front or rear projection, acoustically transparent, ambient light rejecting and polarized 3D material options. For more information, visit http://www.epvscreens.com.
About Elite Screens Inc.
Elite Screens is a U.S.-based company headquartered in California with satellite offices in Germany, Taiwan, China, Japan, France, and the Baltic States. Elite is an ISO9001:2008 certified manufacturer that specializes in producing retail and dedicated custom integrator projection screens. For more information, visit http://www.elitescreens.com.
# # #
Consumer Electronics Show 2014
Las Vegas Convention Center
South Hall | Booth #20848