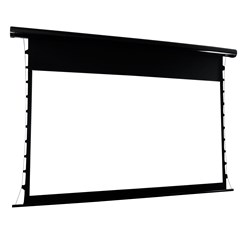 Las Vegas, NV (PRWEB) January 07, 2014
Elite Prime Vision (EPV), a division of Elite Screens, Inc., announces the shipping of its PowerMax Tension electric projection screen. Available now through EPV's line of authorized distributors, the PowerMax Tension has a base MSRP of $1,900.00USD, with prices varying depending on size.
The PowerMax Tension from EPV, the dedicated custom install projection screen line from Elite Screens, is a sleek, yet robust electric roll-up screen. Elegantly housed in black aluminum casing, the PowerMax Tension contains a 130W/110V tubular motor that runs at 30RPM with a four point four pound lift capacity. It comes with a 16:9 aspect ratio, and sizes range from 92-inches to 120-inches.
"The PowerMax Tension is one of our exceptional professional screens," said Jaime Abrego, product manager at Elite Prime Vision and Elite Screens. "We wanted to manufacture an electric screen that can hold up to a variety of environments and applications. The PowerMax Tension is made from our premium CineWhite surface that displays flawless color balance so that your image is as close to perfect as possible."
With masking borders and integrated tension tabs that surround all four sides, the PowerMax Tension electric screen ensures startling picture contrast; while the black backing adds an extra layer to the screen to prevent light leakage. It comes with floating brackets that slide through the channel of the back housing for effortless wall or ceiling installations. The tab tension system keeps the material flat and tight.
The PowerMax Tension is powered through an infrared or radio frequency remote, a detachable three-way wall switch or by synchronizing the screen through a projector's 12V trigger. It comes with a complete set of IR and RF wireless and 12V trigger controls, as well as low voltage wire switches.
Pricing, Availability, Warranty
The EPV PowerMax Tension projection screen has a base price of $1,900.00USD, with prices varying depending on size and aspect ratio. It comes with a full three-year warranty. Under the EPV line, the PowerMax Tension, as well as other EPV products are distributed only through authorized resellers and distributor.
About Elite Prime Vision
Elite Prime Vision, EPV, is a division of Elite Screens and is dedicated to providing superior products for custom install market. The product line features a broad array of electric and fixed-frame projection screens with front or rear projection, acoustically transparent, ambient light rejecting and polarized 3D material options. For more information, visit http://www.epvscreens.com.
About Elite Screens Inc.
Elite Screens is a U.S.-based company headquartered in California with satellite offices in Germany, Taiwan, China, Japan, France, and the Baltic States. Elite is an ISO9001:2008 certified manufacturer that specializes in producing retail and dedicated custom integrator projection screens. For more information, visit http://www.elitescreens.com.
# # #
Consumer Electronics Show 2014
Las Vegas Convention Center
South Hall | Booth #20848